A
nd the Devil is back! Of course I assumed you were thinking of us :D Here we are - back. Yes, the same couple with an opinion about everything, with unscheduled breaks, but tons of food as always.
*warning - long post ahead*
Like I said, the Atlanta floods affected us and the carpets got soggy, messy, stinky - well, you know how it is when your kid spills some really dirty water on the carpet and spreads it across? Only, we were thankful we don't have kids yet to add to the confusion! Anyway, A ended up having an interview the next day. Ya, he 'chose' the early morning slot. So, I ended up moving the couch, treadmill, TV with a broken tv stand - yes it collapsed on me as I tried to move it all alone, valiantly, a big book shelf - with a fat Dorie Greenspan book (which was the ONLY thing A was concerned about that night) and the dining table all in my pajamas in front of random strangers who stood by watching without helping - they were my old apartment's fab maintenance crew. Phew! There is more.
After this, I ran up to the bedroom which was filled with more stuff to find A's suit. Now, which researcher in a ratty Chemistry lab wears suits? So, he has none, almost, apart from his wedding ones. And you know what we all do with our wedding suits and saris. We pack them away safely. I spent 2 hours extricating a suitcase and then searching for a suit that fit him. He's lost over 30 lbs since then. And then ironing it. That was some night. We went out for dinner late in the night and slept at a friend's house. Early next morning, the Dorie Greenspan Guardian Angel from my house left for his interview while I stood on still soggy carpet wondering what next. The rains lashed Atlanta for a good 2-3 days and the carpet, in spite of a huge blow dryer and professional drying, refused to dry. It took us about 2-3 weeks to get the house back to normal. By then, we'd found a new apartment to move into, a month later. Yes, we moved. To a bigger apartment, a more residential area.

A week after settling in, I finally opened this blog and found a ton of messages/comments. Thank you so much for being concerned about us. There have been a lot of things apart from just the floods. Job hunts, grad school applications, sickness and a lot of other disappointments, but at the end of it all, we are still together (Amma, this filmi line is for you :D) and still cooking and fighting after over a month of eating just upma and bulgur and couscous.

Oh, A? A lot of you were concerned about A. There was quite an event in his life. The Yankees won the World series after 5 long years. So, A was thrilled beyond words. He has recorded this game and watches it EVERY morning before he leaves for work on mute. Silent admiration. He just watches it mutely. I almost expect him to cry every day and it hasn't happened as yet. I promise to keep you updated. Also, he watches it every night before sleeping. And I did notice he has this blissful smile as he sleeps. He spent one whole week pumping his hands in the air, saying OMG or using other expletives that I cannot write in this space. It is quite hilarious and irritating to watch him suddenly stop whatever he was doing and go: "Man! I've waited for this for so long!" and then, stand in silence reminiscing the moment and then shaking his head and going back to what he was doing. Of course, it hindered our settling down. Don't you get mad when you are holding this huge painting standing below this guy who suddenly stops drilling the nail and just says something weird?
Yes, that is all A can talk about. Not about the flood, the moving, the struggles. Nothing. Nada. Yankees it is. Anyway, way before the whole flood happened and we were invited to someone's house, we made this absolutely scrumptious Devil's Food Cake.
The person canceled our invitation because of a personal tragedy and we were left with this huge cake. We were going through some bad times and we both just decided, on an impulse, to eat it ourselves. Everyday, after dinner, we'd settle down with a large piece and do nothing, not even talk except for some guttural sounds to show appreciation towards chocolate. I wish I could bring back that strength, that zest and that bliss right now when I need it.
However, I could certainly bring back the recipe. This recipe makes three 9 inch layers. We decided to cut it by 2/3rds. We planned to bake the whole thing and then cut it into 3 layers. However, we found that we could cut it only into 2 layers. So, I'm guessing we went wrong with our measurements somewhere. Therefore, posting the original recipe with the measurements given in the book. Also, we added some baking chocolate along with the cocoa to enhance the chocolate flavor. Our additions are given in italics in the ingredient list. Here you go!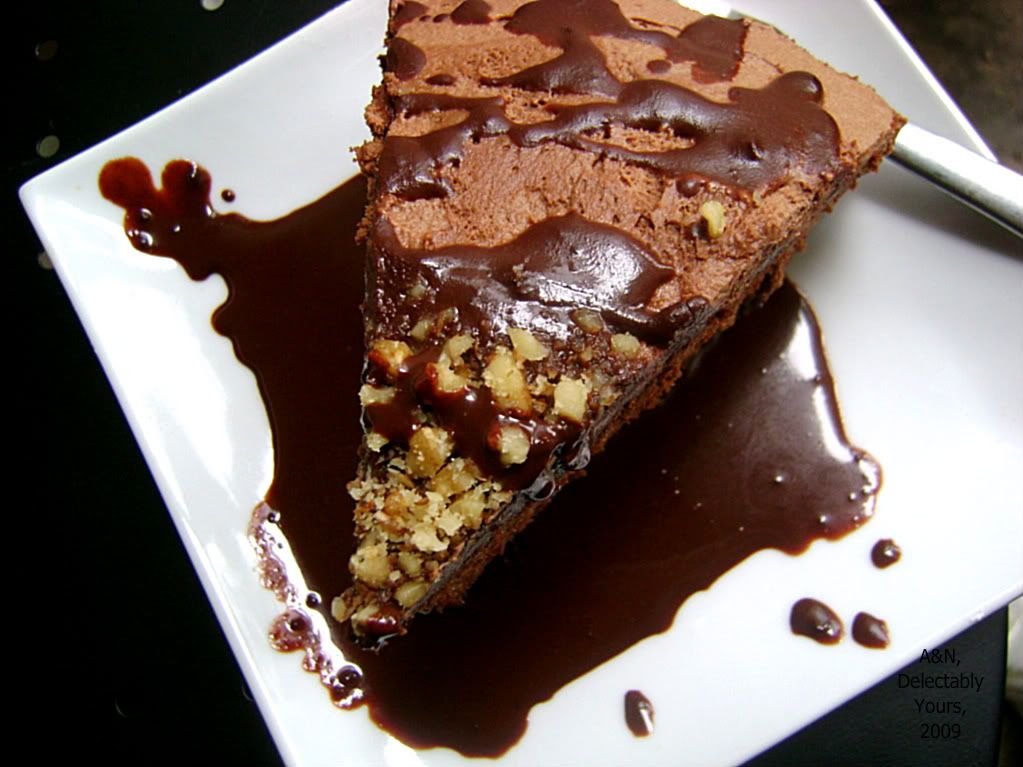 Ingredients
(Adapted from 'Great Cakes' by Carole Walters)
For the cake
3/4 cup unsweetened Cocoa and baking chocolate (
1/4 cup cocoa + 1/2 cup baking chocolate - melted)
1/2 cup hot water
3/4 cup cold water
2.75 cups sifted cake flour
(We used regular whole wheat AP flour- sifted)
1 tsp baking soda
1/4 tsp salt
3/4 cups (1.5 sticks) unsalted butter
- room temperature
1 cup superfine sugar
(We used regular granulated sugar)
1 cup light brown sugar, lightly packed
(we used a mixture of regular granulated sugar and brown sugar, only because we ran out of brown sugar)
3 large eggs
1 tsp vanilla extract
1-2 tbsp strong coffee ( We always add this to our chocolate cakes following Ina Garten's tip)
Chocolate Whipped Cream
This book has a large section just on toppings and though the recipe for this cake asked for fudge frosting, we decided to frost it with some whipping cream. Here is the recipe.
2 cups Heavy Cream
1/3 cup Confectioner's sugar
3 tbsp cocoa powder
If you find your cake to be very sweet, go ahead and reduce the sugar in the whipping cream.
1. Put the cream, sugar and cocoa in a large well-chilled bowl. Its recommended that you chill the bowl you are going to whip cream in, and the beaters (if they are hand beaters) in the fridge for a good 20-30 mins. However, this recipe asked for mixing these ingredients (NOT beating/whipping them) and covering the bowl and then chilling the mixture in the refrigerator for an hour.
Very conveniently, we missed the chilling for one hour step. We just chilled the bowl and the beaters and then beat the whipping cream :D It turned out okay!
2. Remove from refrigerator and beat cream until thick. Add liquer if you wish, at this point. Once the cream falls in soft mounds when the beaters are lifted in air, it is ready.
Now for the recipe for the cake itself:
1. Make sure the racks of the oven are in the lower and upper third of the oven and preheat the oven to 350F. Butter three 9 inch round pans. Line with wax paper and butter the wax paper.
We just have one 9 inch pan and thanks to mis-measuring, we found that all our cake batter fitted that pan : so we baked just one pan.
2. Put the cocoa in a small bowl. Slowly add hot water and stir until smooth. Then, blend in the cold water and keep it aside.
3. Sift flour, baking soda and salt thrice. Keep aside.
4. Place butter chopped into 1 inch pieces and beat until it looks smooth and light in colour. Basically, cream it.
5. Add the white sugar, 1 tbsp at a time and make sure it blends well into the butter before adding the next tbsp. Repeat this with brown sugar.
6. Keep scraping the sides of the pan as you beat. Add the eggs, one at a time at one-minute intervals. Add the vanilla extract too.
7. Add the flour mixture and the cocoa liquid alternately into the egg mixture. The flour should be divided into three parts while the cocoa liquid into two parts. This process should begin and end with flour. Make sure that before every addition, the previous addition has been blended well. Once its all blended, beat for 10-15 seconds more.
8. Transfer batter into buttered pans. Smooth surface by tapping on counter. Place two pans on the lower shelf of the oven and center the third pan on the upper shelf. Bake for 25-30 mins or until cake comes away from the sides of the pan and the top is springy to touch.
9. Once done, remove cakes from oven. Let cool in the pans on the cake rack for 10 mins before inverting the cake. Make sure to take off the parchment paper.
We cut our cake ( which was just one layer!) into two, once cool, and then used chocolate whipped cream to spread between the layers too. Then, place the other layer and slather the whipped cream. We garnished the middle of the cake with 1/2 cup of chopped walnuts and then drizzled chocolate sauce over the top to make it look jazzy.

Okay, not jazzy. We ruined the icing in some places and wanted to cover it up :P in an artsy way!

For the chocolate sauce:

1/2- 1 cup chocolate chips/baking chocolate
Some sugar (if unsweetened baking chocolate). We used semi-sweet.

Just melt this in the microwave and keep stirring until smooth and shiny. We added a little milk to dilute it for a sauce to serve the chocolate cake with. I just poured some of this sauce in a ziplock bag, cut a corner and drizzled the sauce over the cake! Easy.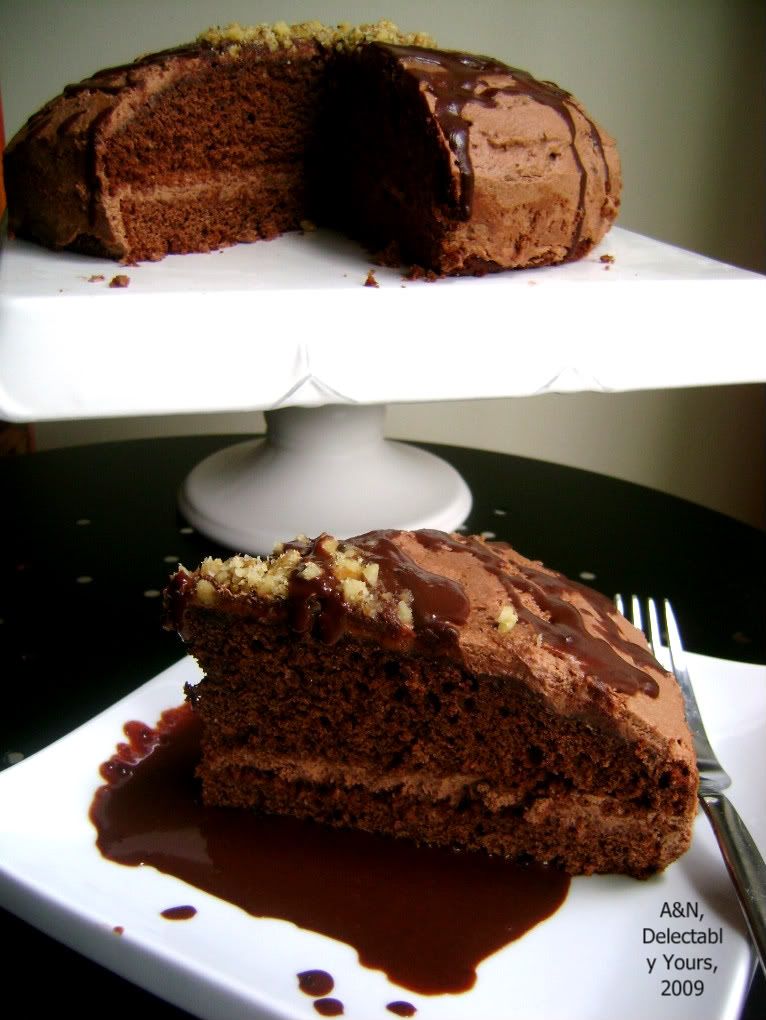 We found this gem of a book for cakes called 'Great Cakes' by Carole Walters on sale at TJ Maxx. We picked it up solely because it sold for $5. This book has been quite a treasure and we've tried out 2 recipes from this book and they both have worked out brilliantly well. So, if you see this book, grab it.
This cake was rich, indulgent and sinful to say the least. This also stays for a long time in the fridge. Explains how we ate it for a long time :) After literally 3 months, I can still feel the taste and my mouth is watering as I write this post and edit these pictures! We are not great at cake decorating as is obvious from the pictures. So, I just slathered chocolate whipped cream to make it look rustic (a better word for badly decorated :P) and dripped the whole cake with some chocolate sauce. I also served it with chocolate sauce to ourselves :D You should totally warm the cake for 15-20 seconds before eating it. There is nothing, nothing better than a warm gooey chocolate cake. Really. Nothing. Not even the Yankees' win, by the way.
With the new house, we have new neighbors and a huge community that we can pass off baked goods to, so, here's to more baking and more cooking. Also, new house = new, big patio = better pics, so yayyyyyyy :D

Want another peek? Yes, you do. I know!