A

s a kid, I never really had the opportunity to eat oranges because my father hated them. My initial hate affair with oranges began when I was subjected to bioterrorism by my cousin. She used to take the orange segments and squeeze it in front of my eyes, such that it unleashed a spray that wreaked havoc in my eyes. But like so many things that we used to hate as children and ended up loving them once we grew up, I eventually came to love oranges.
As far as baking with oranges goes, the flavor really lies in the peel/zest rather than the juice. That's because of certain oils and alcohols with intense aroma and certain
glucosides
that contribute to its bitterness. The idea behind this loaf/cake is to get a very intense orange flavor and complement it with something that goes well with it.
Cranberries and oranges are a popular combination. They're often used in breads, muffins, scones...even cookies! But I chose them because they are commonly used during thanksgiving and I was planning to take this to a friend's place during the Thanksgiving weekend.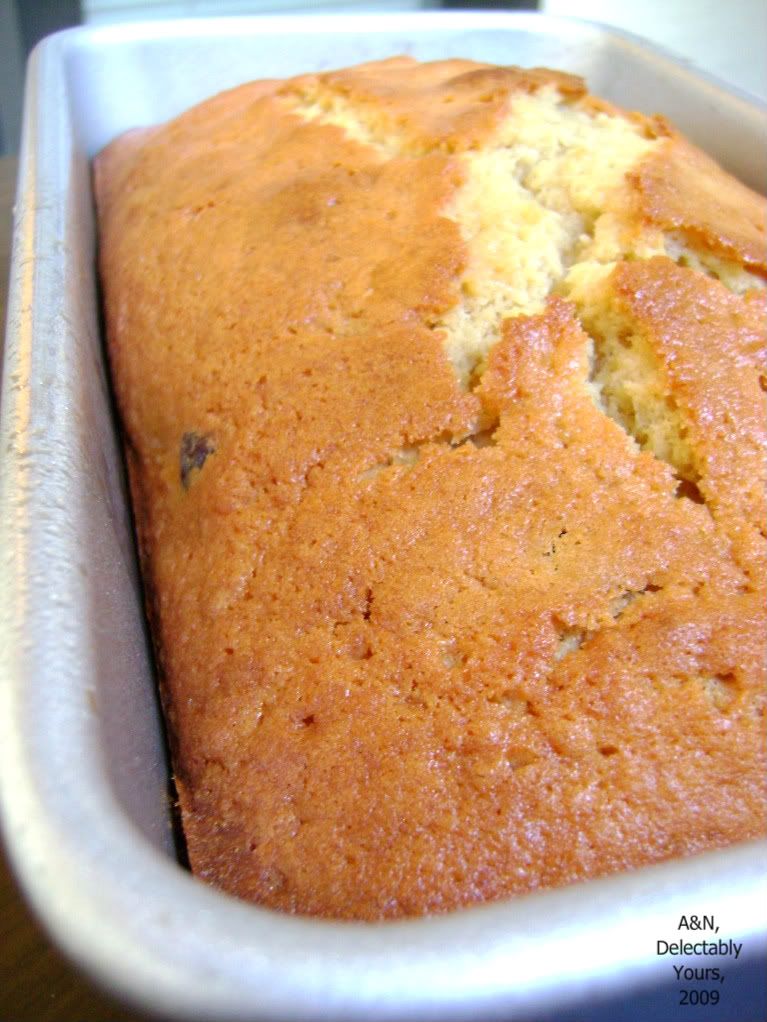 1 stick (8 tbsp/4 oz) butter, at room temperature
juice and peel from two oranges
1/2 cup dried cranberries (Craisins)
* the amount of sugar really depends on how sweet the juice from the orange is. Please adjust accordingly.
1) Keep the juice from the oranges separately. With a knife, remove the pith from the peel as much as you can. Using a peeler to peel the oranges works great for us.
2) Simmer the peels into a saucepan with 1 c water and the sugar. Make sure that the peels are fully submerged in water. Simmer until the liquid reduces and the peels become really soft, about 10 mins or so. Remove from the stove.
3) Strain the liquid 'syrup' and let it cool. Once the peels have cooled down, chop them into tiny bits. Add the orange juice to the syrup once it has cooled down. The total liquid should come to 1-1 1/4 cups. Which is why I recommend adding the orange juice into the mixture after the syrup is done. You could always drink the excess juice. The syrup....not so good for you ;)
4) Preheat the oven to 350 F.
5) Sift the dry ingredients (flour, baking powder, baking soda, salt) into a bowl. Add the cranberries and toss them just a little.
6) In a larger bowl, cream the butter with an electric beater for 3-4 mins. Add 1 egg at a time and beat for a good 2-3 mins. The mixture may look and be curdled. That is fine!
7) Add the dry and wet components alternately, beginning and ending with dry ingredients. after each addition, fold gently with a spatula until you stop seeing 'dry' lumps of flour.
8) Pour the batter immediately into a 9X5 greased loaf pan
9) Bake in the middle rack for ~35 mins. or until a skewer inserted comes out clean. Do not open the oven door until you see the top start to crack. In case your oven doesn't have a light, you can forget about it for at least 25 mins.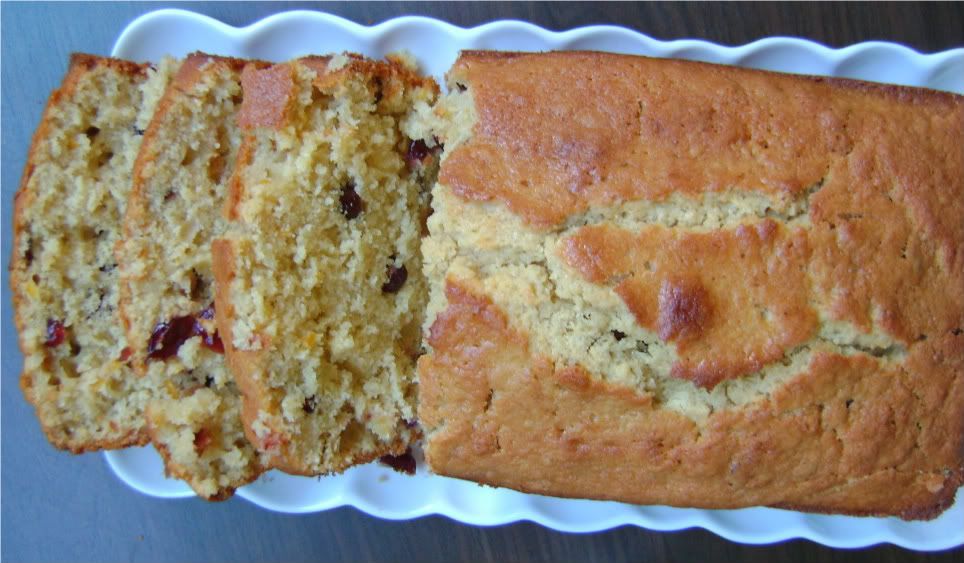 We personally loved this cake. It certainly had the intense orange flavor that N was looking for
and small bites of orange peel that I was looking for. The cranberries proved to be a good addition too. They were well distributed throughout the loaf so apparently the 'coating with the flour' trick worked in this case. You could further 'enrich' the cake with some orange-sugar icing or even serve it with some whipped cream or orange scented whipped cream.
Thanksgiving...its supposed to be about sharing; another thing I used to hate as a kind but have grown fond of now ;)
P.S. - Something's wrong with Blogger and its taken us hours to post this recipe and format it! Any clue what?