I

came back from India, all happy and ready to be back. One wouldn't believe that, but I was. You see, when I was in India, I got some wonderful news. I'm going to move to Syracuse for a year to do my Masters in Media Management at Syracuse University. This one (little) thing has done so much to my mood, to my life in general that its not just random news anymore. Its a life event for me.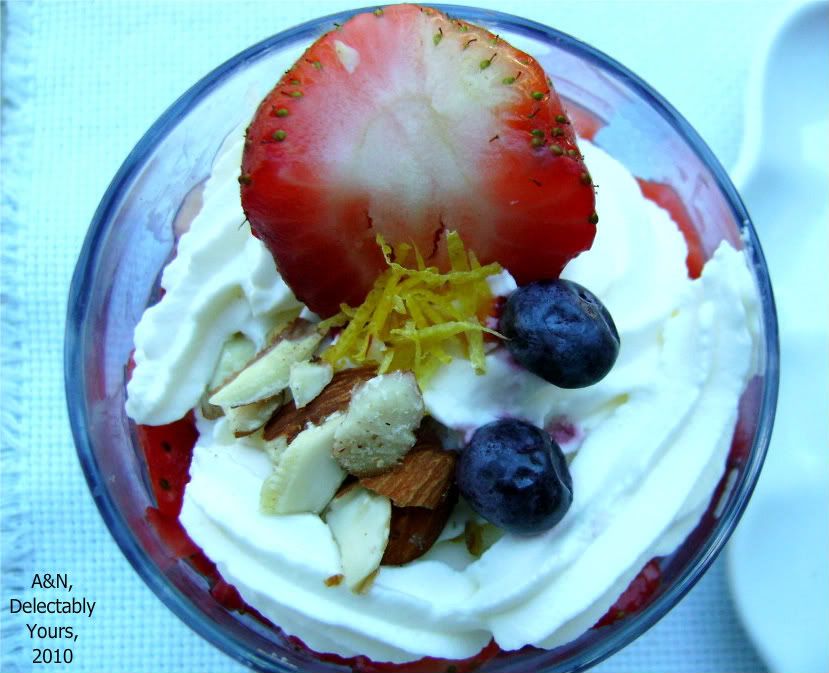 I came to the US after getting married to A with a work permit. Wall Street crashed the day I received my permit authorization and life hasn't been the same since. I turned from an active, bindaas, cool person to a whining, moaning, crying, depressed wreck. This food blog was supposed to give me a purpose, and it didn't. Nothing did. I hated going out, I hated meeting people (which was a shocker!), I put on obscene amounts of weight (It is like the movies) and spent day and night cribbing about this country, about how I'd given up everything. You know, its very easy to love a person if things are okay with you. When things go wrong, and when you, in your head, pinpoint the reason to one thing/person, you lose control. In my case, my marriage changed my life in more ways than one. A changed my life. While I can see that I've grown as a person, and become stronger after the two year crisis in my life, it wasn't always like this.
Amidst all the cakes we baked, he sat and watched me as I ate and plunged into a hell-hole. He stood here, baking for me, cleaning after me, taking all the jokes on him - just waiting for things to change. He is a man of faith. I'm the confused one. Still. And he won, partly. Through me. With his irreplacable faith. I changed some marvellous things about him. And it is not necessarily good for him. But we are picking up the pieces now.
Just as I kept thinking and finally reached a place where I figured I'd be okay if I don't have that financial independence, I'd be okay if I'm 'happy' doing fun stuff not necessarily work stuff, the news of the University offer trickled in. I didn't want to write the GRE. It involved Math. And I was terrified of failing. Lately, everything was a failure. From cooking Dal to just my whole life. Every time I spilled something, I cursed myself for being clumsy. It never struck me that, that is the kind of person I am. These two years didn't make me any extra clumsy. But then, who really thought in these two years. It plays like a bad movie in my head.
I know a lot of you may say, 'oh a job is nothing.' With due respect, its not about the job. Its about fulfillment. And it took me this crisis to figure out that a job is not necessarily the way I live my life fully. I needed this lesson. I needed this crisis to test me. I almost lost it. I almost gave up. Thanks to phone calls to my parents at the oddest of times, to good friends, online and offline, and thanks to A, I'm wiser. And calmer. And smarter.

Now, after all the gyaan :D, let me move to this super healthy dessert. A friend came over. We don't have too many friends, so any chance of making friends is welcomed and they are invited home to be our guinea pigs. Without warning. I just had this dessert in my head. As a picture. I had to, had to do this. Plus the blueberries we picked last year had to be finished, IMO. We are going picking again and I'm picky that way. Pun totally intended.

And I'm no dessert expert. I'm just an expert at bossing over and supervising and screaming when things don't work ;)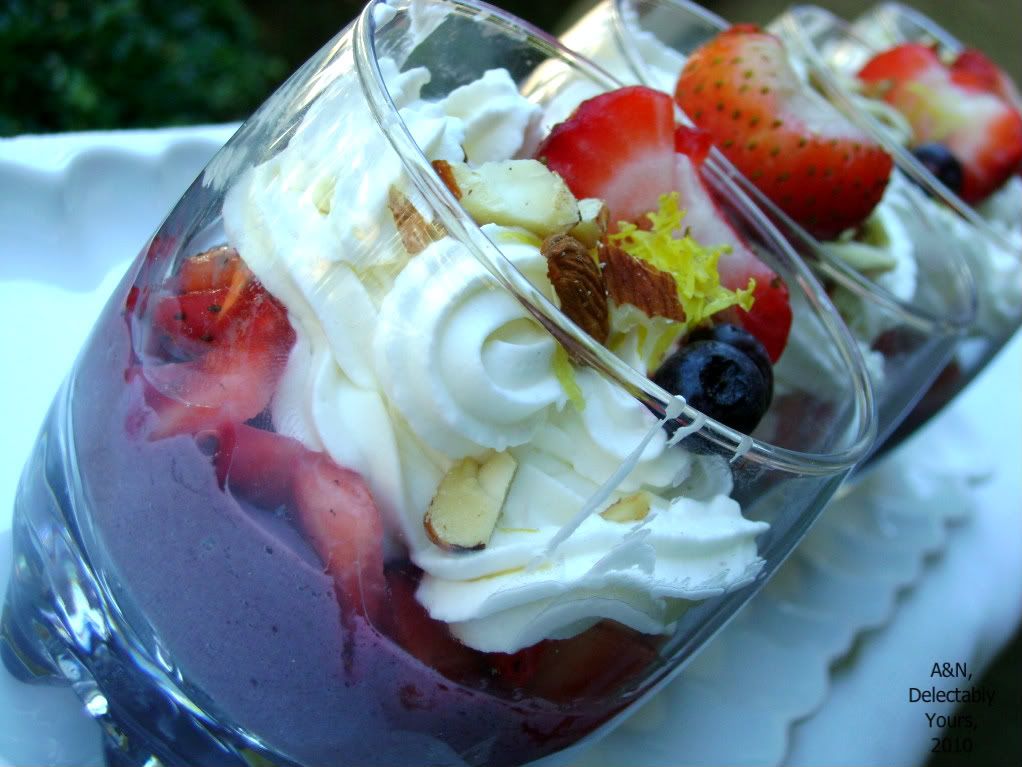 Ingredients
For the Blueberry syrup
1 cup blueberries
1/4 cup sugar
1/2 tsp vanilla extract
4 tbsp water
1/4 tsp cornstarch
For the 'mousse'
10 oz silken tofu
2 tbsp sugar
2-3 tbsp blueberry syrup.
1/3 c heavy whipping cream
1 tbsp sugar
1/4 tsp vanilla extract
For the strawberries
2 c strawberries, each cut into two pieces vertically.
Lemon zest, blueberries, chopped almonds for garnishing on top.
1. In a saucepan, put all the ingredients for the blueberry syrup and heat until the liquid starts to boil.
2. Lower the heat and reduce until you see the syrup thicken. Take care not to crush the berries.
3. Strain the mixture and retain the syrup. You could retain the berries and use them in pancakes etc. or in step 4.
4. Drain the silken tofu well. Then, in a blender, mix the tofu, syrup and sugar until it is a smooth paste. Take care not to turn this into a runny puree. It should be a jiggly mass. You could use the berries from step 3 if you like a more 'grainy' texture, but we skipped the berries. Let it set overnight. Or at least until it is not runny any more. It usually takes anywhere between 8 hours to overnight. It is pretty good-looking when you pour this into dessert bowls/glasses to let it set.
5. When ready to assemble the dessert, whip cream. In a bowl, take the whipping cream and add the vanilla extract. It helps if the bowl and the beater's blades have been refrigerated for an hour or so. Start beating until stiff peaks form while adding sugar as a continuous stream.
6. Top the set mousse with chopped strawberries. Then add a layer of whipped cream. We piped them. Garnish with fresh blueberries, lemon zest and some chopped roasted almonds.
When we finally got this right, I swear I could have cried and yelled like I won the Olympic Gold Medal or something. We started experimenting two days before the guest came. A, the resident fat-lover-since-he-doesn't-put-on-an-ounce decided to make blueberry cream. Can you believe it? Blueberry cream. Nothing I said stopped him from trying it out. So, a blueberry coulis was made, strained and the syrup was used to flavor cream and was whipped in all its glory. It was poured into serving glasses at 2 AM and left in the fridge for it to set. A had a not-so-brilliant idea of doing the same with ricotta. So, we slept at 3 AM that day dreaming of blueberries and mousses. We woke up on Saturday and found that the cream was beautiful. Heavenly. Well-set. Lovely colour and what not. The ricotta mixture wasn't the best. It was gritty - a texture I wanted to avoid with the mousse. We made pancakes out of those :P
I wanted to try a healthier option and silken tofu fit well in between the existing tires on my body. So, a silken tofu mousse was made with the coulis again. This was simpler than the cream. We let this set and in the arrogant confidence that silken tofu will work, we ate up all the cream sitting and watching an Agatha Christie movie.
The D-day dawned and we found the mousse had set and then, I stepped in to complete my vision :D I chopped strawberries and arranged them on top of the mousse, whipped some cream, piped them onto the glass and basically acted like I made the dessert myself and that A was only going to eat it :D
When the dessert was served, my guests were astounded by its beauty and craftsmanship (LOL!) and were amazed that it was low fat. Each person got about 1-2 tbsp of cream for their dessert and that certainly wasn't heavy! And this was the right time. It was cold, fresh with berries- summer's abundance and colourful.

What made it special for me was that we worked together again. We reminisced on all the fun we had picking berries and when you turn it into something as beautiful as this, you realize team work always works. In cooking great food and in life.

Thanks for listening to my yarn :)