R
aji's death has left me a little more than shaken and I wanted to come back and blog more and keep at it on working on my promises. I wanted to get to know all of you a little better, so here I am with a different recipe today. Something that is homely and something that you need to eat with your hands and lick your fingers for. Something soul-satisfying. Food does cure. After the previous post, I haven't made Brinji yet, but I made some South Indian food. The food I grew up on. Remembered my grandmother who fed us for over 50 years continuously and who I tremendously missed in the last one month.
January has been a hectic month for us and our families. 2 weddings aren't easy to organize or even just attend. Clothes co-ordination, inviting people, socializing, arranging for a million little things, travelling, guests - all this and more can drive one crazy. However, I think we managed it with aplomb!
One of my cousins got married in Chandigarh and we were guests to an absolutely amazing spread of Punjabi food. I don't think any restaurant- five star or not can equal the kind of food served at this wedding. The Dum Aloo was to die for and I could kill for a meal like that. I hardly ate though. The tension of the wedding, running around and everyone falling sick around me made me gobble food just so I could eat something. A, of course, did full justice to the food and can possibly write another Ph.D thesis on the food at this wedding. Brilliant, brilliant food. That said, the next wedding was down South. My sister's, to be precise. I think it was just right because after an overdose of paneer and Rotis up North, we were more than ready to settle down to 'elai saapadu.' (elai = plaintain leaf, saapadu = meals)
My sister got married to a Konkan guy. So, I'm trying to master some Mangalorean/Konkan recipes. Not. It doesn't really matter for A and me which region good food belongs to :D We are both on a regional food spree and loving it! So, we tried this Tomato Saar from Arch's blog
The Yum Factor
. I've tried several recipes in my non blogging days from her blog. I love her simple style of writing and that she posts a modern take on authentic Konkan recipes.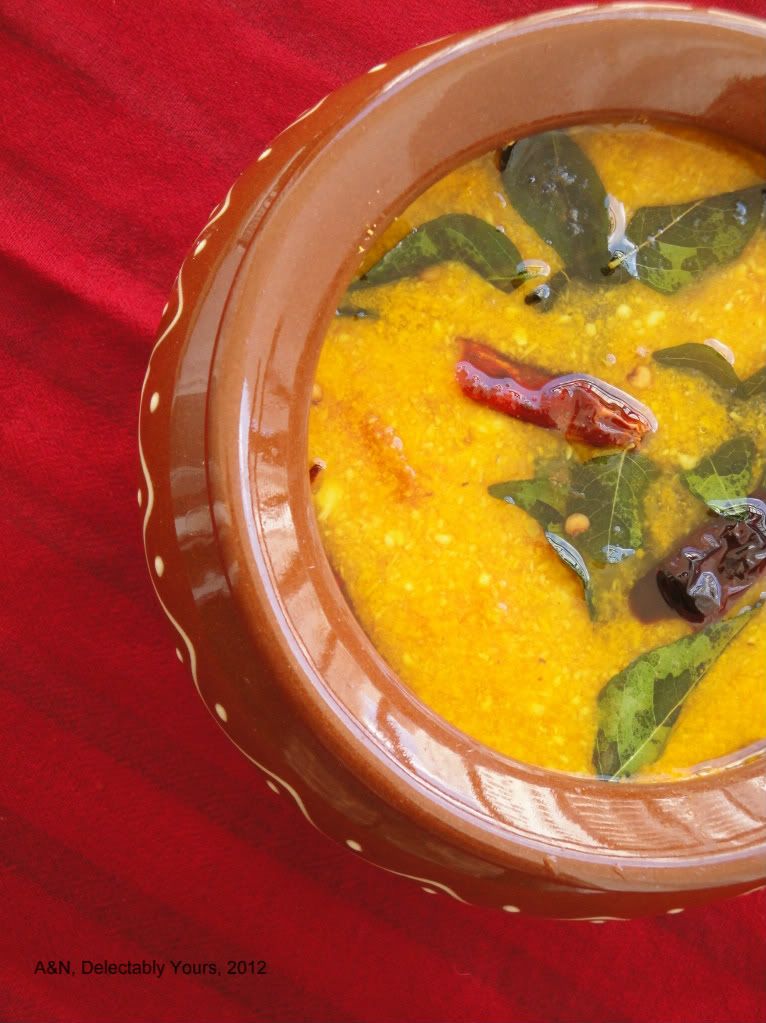 Tamilians are known for their Rasam. And Tamilians like us, settled in Karnataka make the #worldfamous Mysore Rasam on most days. I grew up on one type of Rasam and ended up hating it for most part of my life. I saw it just as spiced water. I think it was because the same Rasam was made every single day. Of course, my mum tried to change it up once in a while with her fantastic
Lemon Rasam
and Pepper Rasam. Now when I cook on an everyday basis, I love Rasam and I love trying out different types of Rasam. We don't cook South Indian food enough thanks to sheer laziness. But there are weekends and some weekday nights that I crave for Rasam Saadam and Thair Saadam (curd/yogurt rice).
The South Indian that I am, nothing equals slurping your Rasam Saadam with Rasam dripping down your arms. And Thair Saadam or curd rice? That dish belongs to the heavens, I'm telling you. Also, I firmly belong to the category that says eating rice is satisfying to one's soul.
It was one such day when we were in Atlanta when we tried this Tomato Saar. I was bowled by the flavours in this Saar. I'm not a fan of coconut and was rather sceptical about coconut in Rasam. Isn't Rasam supposed to be light and all that? But this totally changed the way I looked at Rasam. Now this is a regular. I love, love, love the addition of jaggery in this Rasam. Karnataka cooking is known for adding jaggery and it lends that caramelly sweetness to our cooking. Most people ridicule this and call our Sambar sweet. I say, so be it. There has to be some regional variation, no? This is ours. We like it like this. A little sweet from the jaggery and the coconut, sourness from those tomatoes and the thickness of this Rasam could qualify for a soup too. No need to call it Mulligawtany anymore ;)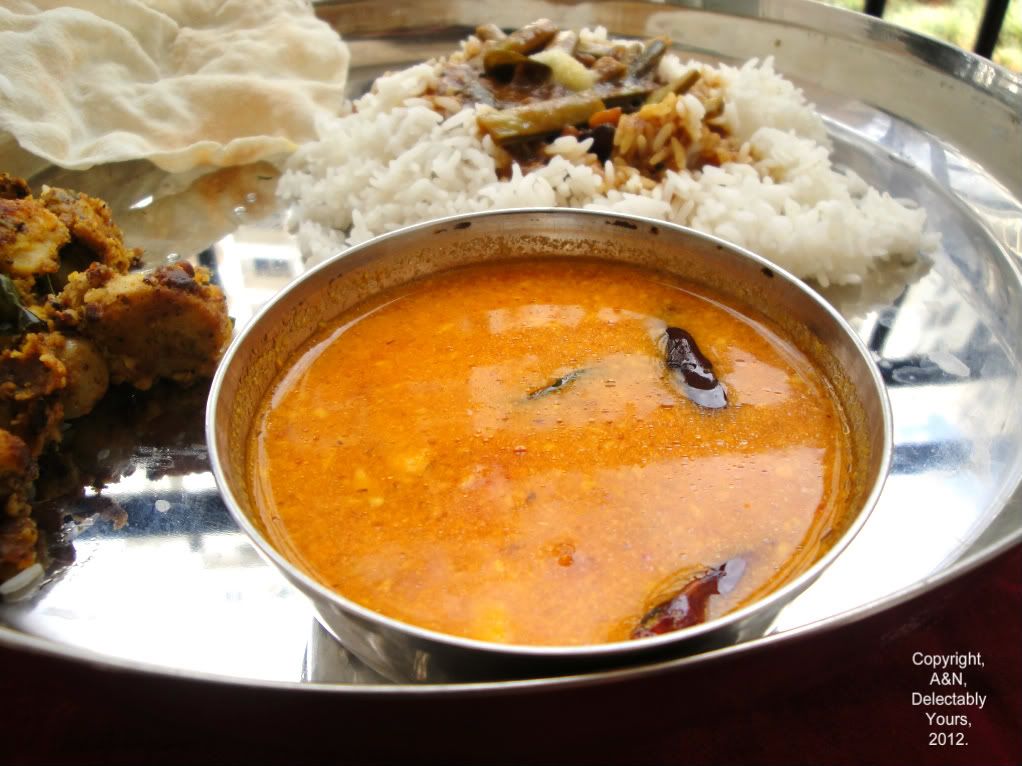 I made this recently, after a long time and remembered that I should post this in honour of my new brother-in-law who smiles for everything :) This Saar should make anyone smile. Do try it as an alternative to your everyday Rasam. You will love the change in flavour that it brings to your mundane, everyday Rasam.
Thanks
Arch
for a wonderful recipe. One of those recipes that have stuck with me irrespective of the minor variations.