2
weeks ago, two people huddled and whispered sweet nothings in each other's ears. They argued, they cajoled each other and finally were convinced by the other to do it. They did something they've been wanting to do for a long time, but worried about whether the deed will be done in vain. The deed we are referring to is the buying of our first bread book The two people were A and I, who huddled at Borders Book Store at the Culinary section. He argued that we were novice bakers and that bread was still going to be challenging, I cajoled saying that nothing could teach us how to bake bread if not constant trial with the help of a celebrated book. The book was 'The Bread Baker's Apprentice' by Peter Reinhart.
2 days later, they excitedly click on Pinch My Salt, a popular blog and a huge favourite of N's repertoire of blogs only to find that Nicole had very benevolently thought of people like us and invited her readers/fellow bloggers/bakers for a challenge like never before. Bake every single bread in the book. Yes, the same book that we'd argued over. N said a million times 'I told you so,' while A went on to fill up the form, join the Google Group and read up the book like it was the Bible. Well, it is indeed a novice baker's Bible!
Yes, we are among the 200 mad people who've signed up for this challenge and exchange eager tweets/about a 100 emails a day :D and tons of inquisitive questions with amazingly researched, knowledgeable answers given in minutes. People like us have been inactive in the group in terms of any knowledge shared (coz we have none with regards to bread baking) but have gone through each and every email with wonder. Thanks to each and every one of you for making this bread baking process such a fun activity and its unbelievable how much we've learned in these last few weeks!

This
is the original recipe by Peter Reinhart. We halved the recipe to make just one loaf since we are going to try baking a bread every week from this book. That makes it 4 loaves for a month, and we certainly didn't want to bake too much of the same thing!
In A's handwriting: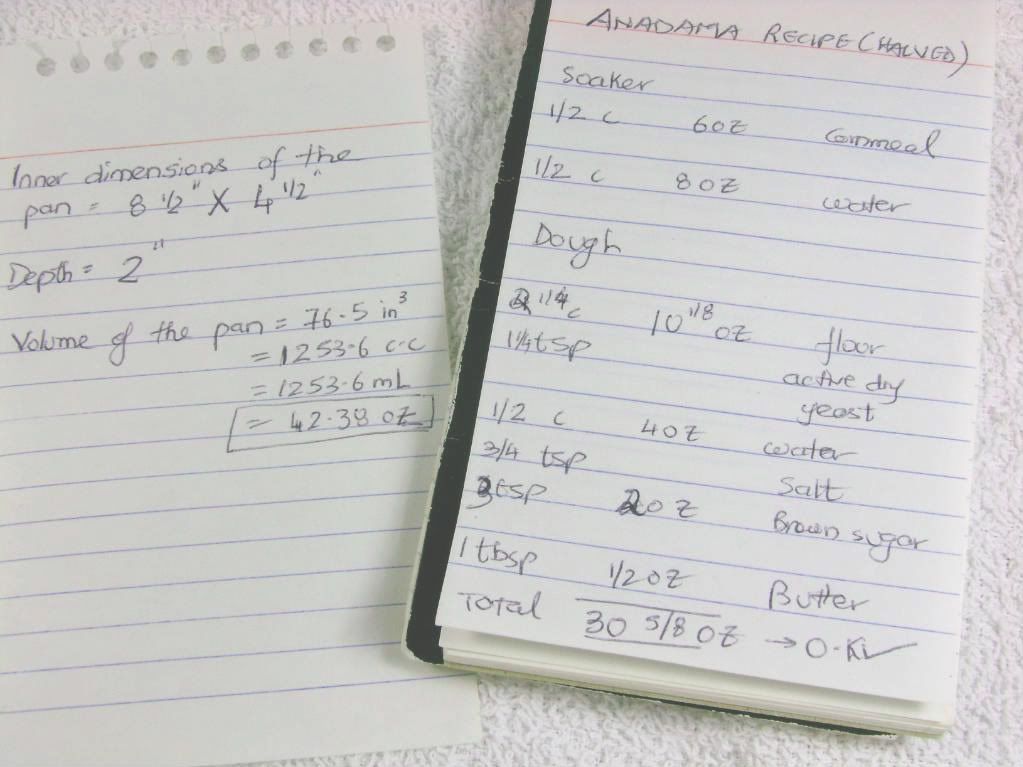 We also made some changes with the ingredients and were quite happy with what the results! We cannot post the full recipe here thanks to copyright issues, however, the link given above is from
Google Book
s
and does have the recipe. We've given the list of ingredients (with our measurements for one loaf) here with the changes we made given in italics.
Ingredients
Soaker:

1/2 cup cornmeal, preferably coarse grind (called polenta, sometimes or corn grits) -
1/2 cup water at room temperature

The soaker has to be prepared the previous day. The day before you want to bake the bread, prepare the soaker by mixing the cornmeal with the water and cover with a plastic wrap. This needs to sit overnight.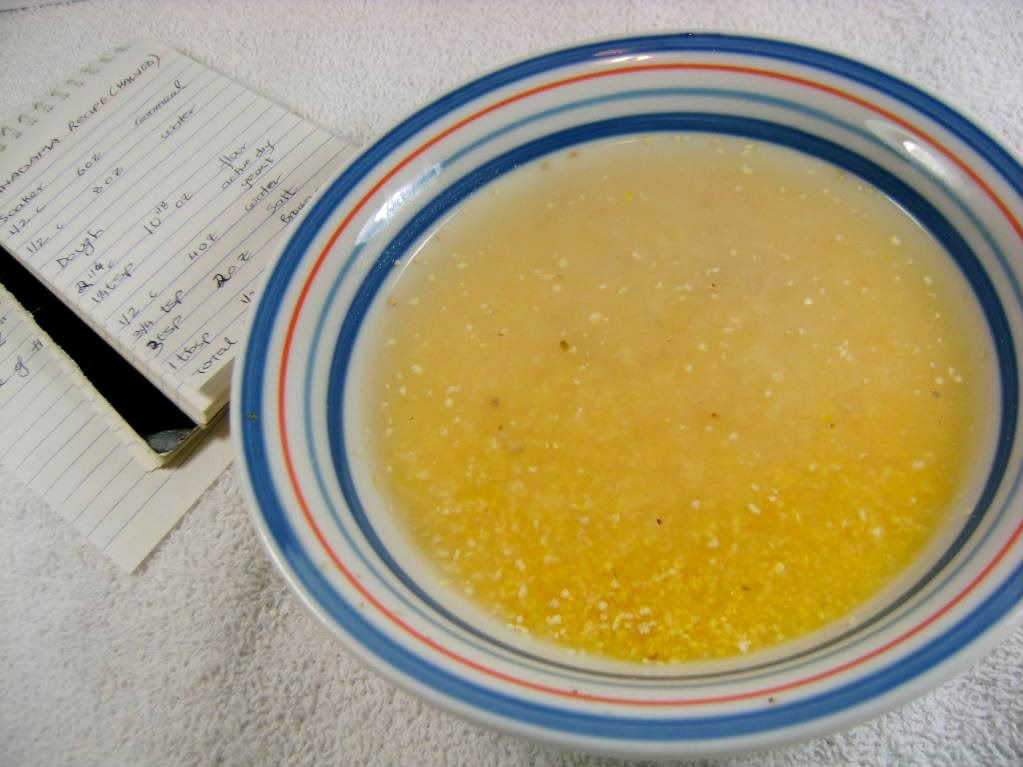 The bread dough:
2.25 cups Unbleached Bread flour -
We used bleached AP flour thanks to a stupid mistake we made by picking up the wrong bag at Costco!
However, we also had to add a 1/4 cup of flour more than this because the dough was still sticky at the end of kneading.
1 1/4 tsp Instant yeast
We used Active Dry Yeast instead of Instant yeast because that is what we had. Reinhart mentions in his book that when one uses Active Dry Yeast instead of Instant yeast, we may need to use 25% more than the prescribed amount of instant yeast. We did just that and it worked out great.
1/2 cup Water, lukewarm (around 90-100F)
3/4 tsp salt
3 tbsp molasses
We didn't have any molasses and our one month shopping rule doesn't let us go grocery shopping for anything else apart from milk, eggs and fruits through the month. So, we added brown sugar instead of molasses, and yes, molasses is on the next month's list :D just in case!
1 tbsp shortening or unsalted butter at room temperature
We used butter and not shortening.
Cornmeal for dusting
Optional, according to Peter Reinhart, a MUST according to us!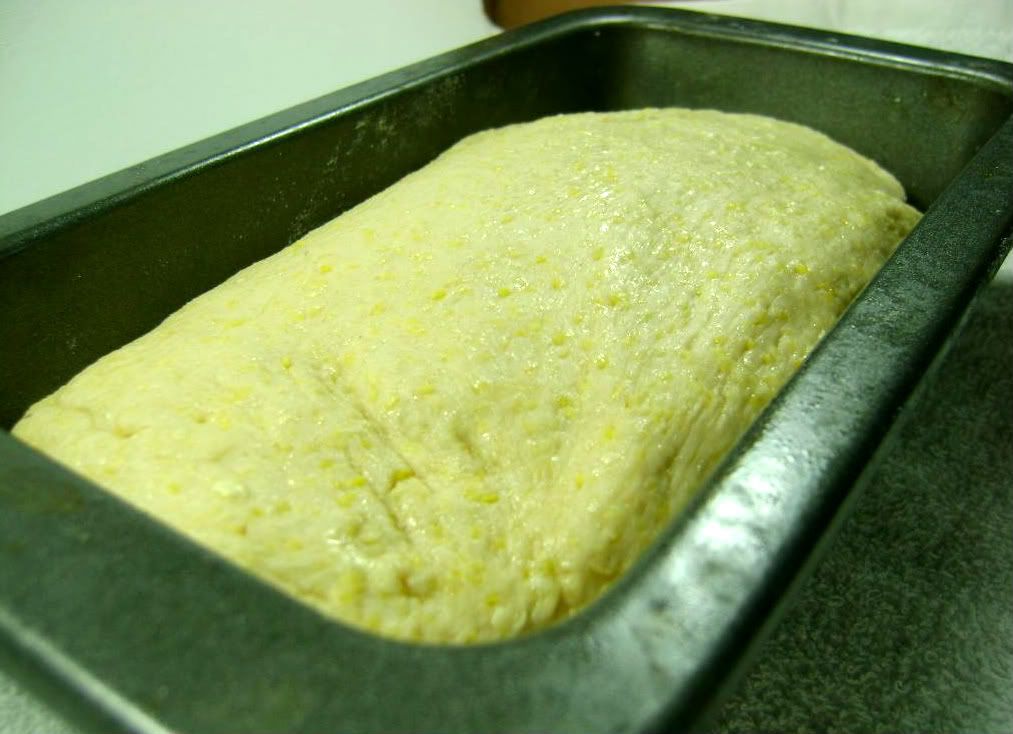 We made a mistake by taking out the bread a little early and not letting it cool thanks to uber excitement! Also, the dough seemed to be slightly too much for a loaf. We still stuffed it though :P However, we loved what we had! The bread had a sweet tinge to it, and was crunchy thanks to the cornmeal and absolutely lovely even on the next day. We made French Toast with the bread the next day and the texture was the same. This sure is a keeper of a recipe.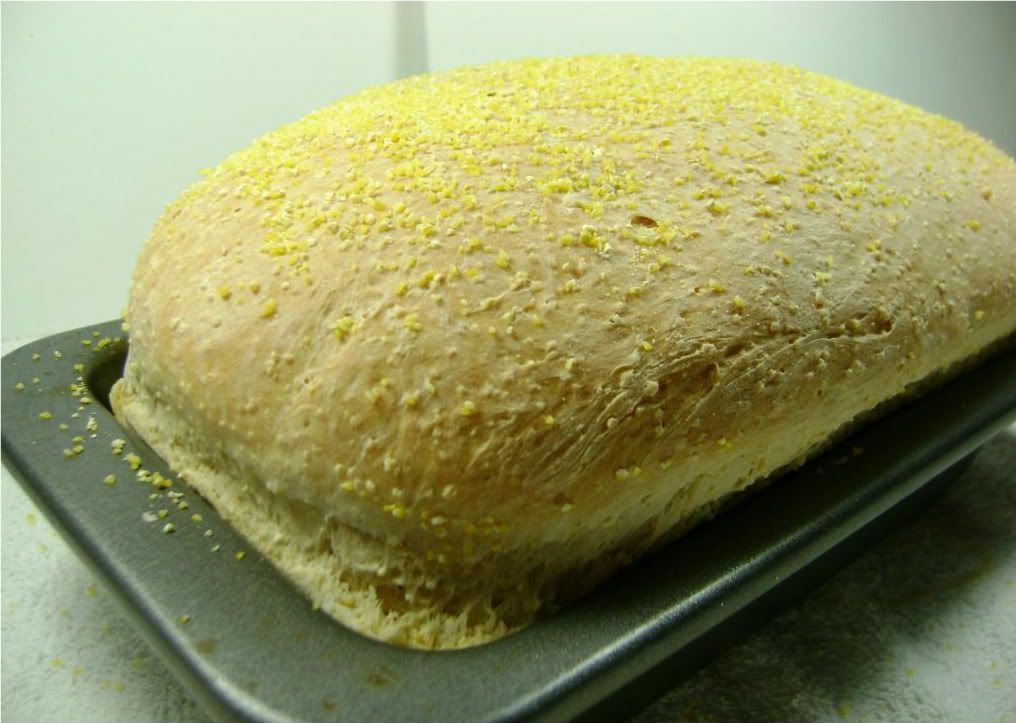 On the flip side, like I mentioned earlier, we had to use bleached AP flour thanks to our stupidity at Costco. We picked the wrong bag of flour :| This was the first time we were picking up flour from Costco and didn't notice that it was bleached! Anyway, it didn't seem to affect the bread baking process as much. We'd love to try this again with whole grains and make this a regular at home.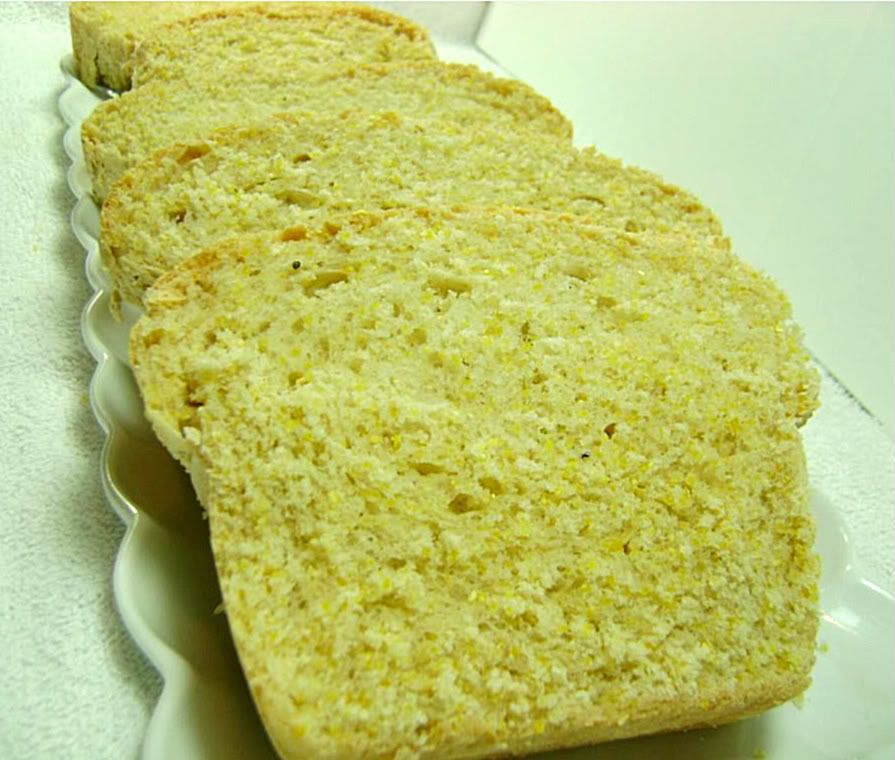 This experience has been more than a learning experience. Some emails have left us rolling on the floor with laughter. Some avid bakers have named their Starters and its hilarious to listen to them talk about their 'babies' or the starter's kids :)
And check our fellow mad bread bakers at Nicole's blog
here
! Do visit this page also to see the bread bakers' map on Google Maps. People from all over the world, passionate about bread baking are doing this and its a marvelous effort! Go ahead and leave
Nicole
a comment about how much you'd have loved to be a part of this ;) It will make her day for sure!
P.S. - Peter Reinhart himself responded to Nicole's challenge and has promised to keep an eye out for us, mad bakers! Yay!