W
e are back! Can you tell? Can you tell that I'm posting this in a hurry? This time, the cooks got an opportunity to get daring, and you know how Daring A and I are :P, so we signed up and didn't really regret it. Oh, my waist did, but then what is that treadmill for, and husbands for, if not for venting it out. Right?
Okay, I'm going to cut to the chase and tell you what we did for
Daring Cooks
. I'm sure you've seen on all other Daring Cooks' blogs, the fabulous Ricotta Gnocchi. Well, we did the same, only some of ours weren't firm enough thanks to inexperience, some arguments in the kitchen and sheer exhaustion. I promise we will do better next time! We made our own Ricotta and halved the recipe. This recipe is from the famous Zuni Cafe.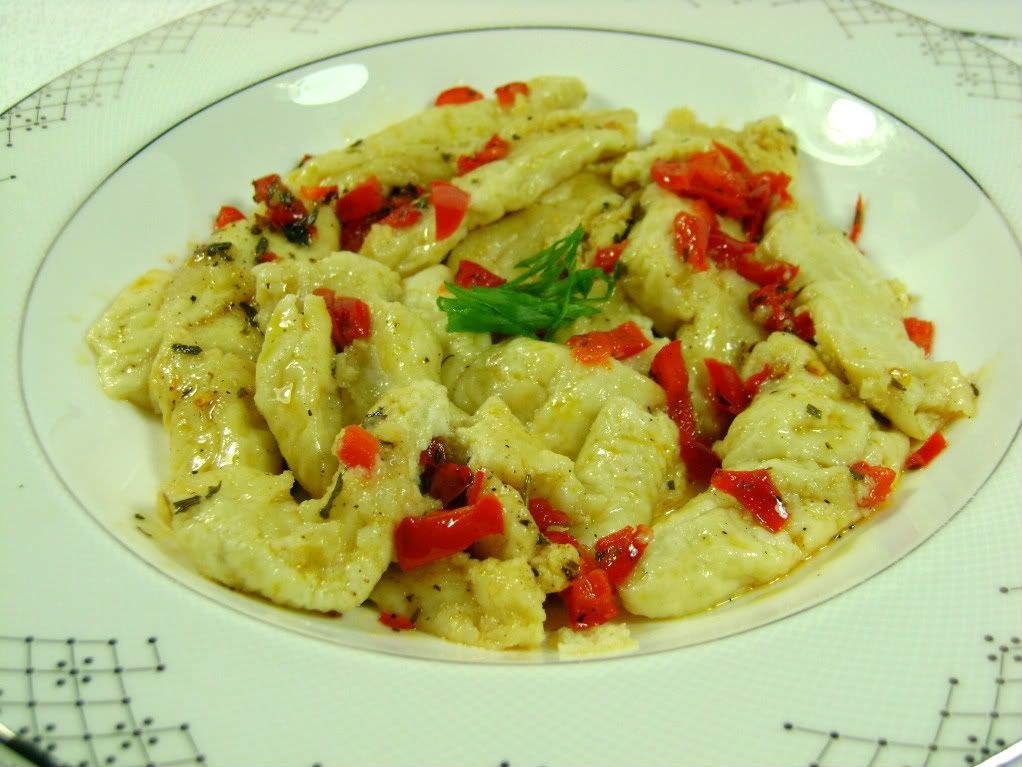 Ingredients
1 cup fresh Ricotta
1large cold egg, lightly beaten
1/2 tbsp Butter, melted
A couple of Sage leaves/1/2 tsp Dry Sage
1/4 tsp Nutmeg
1/8 cup Parmigiano Reggiano, grated
1/8 tsp Salt
All-Purpose Flour for rolling the Gnocchi
We made our own
Ricotta
and let it strain overnight and for half a day. In spite of this, there was still some moisture left. Sigh.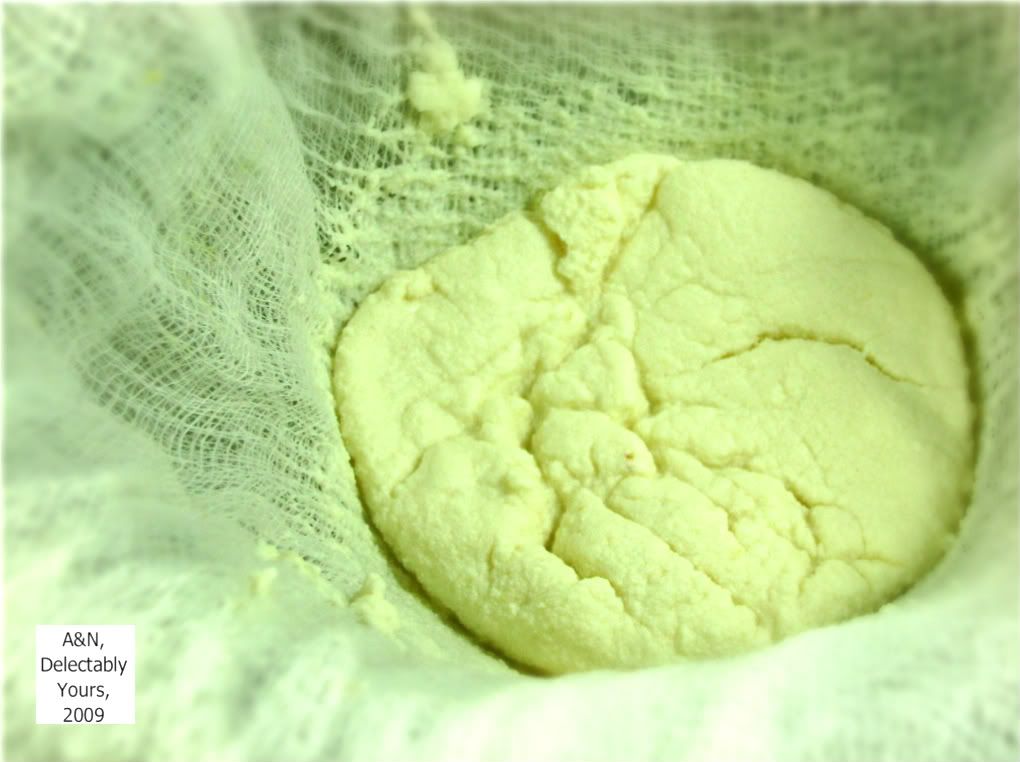 Anyway, we decided to pucker up and do our best on this recipe and make the Gnocchi. Here are the steps we followed.
1. Mash the ricotta well to form a smooth paste like mix. You may mash it with a spatula and make sure to rub it across the dish to make sure there are solid curd like formations.
2. Add the lightly beaten egg to the mashed ricotta.
3. Melt the tablespoon of butter. As it melts, add in the sage if you're using it. If not, just melt the butter and add it to the ricotta mixture.
4. Add in any flavouring that you're using (i.e., nutmeg, lemon zest, etc.). If you're not using any particular flavouring, that's fine.
5. Add the Parmigiano-Reggiano and the salt.
6. Beat all the ingredients together very well. You should end up with a soft and fluffy batter with no streaks (everything should be mixed in very well).
To form the Gnocchi:
7. In a large, shallow baking dish or on a sheet pan, make a bed of all-purpose flour that's ½ an inch deep. Meanwhile, fill a small pot with water and bring to a boil. When it boils, salt the water generously and keep it at a simmer. You will use this water to test the first Gnocchi that you make to ensure that it holds together and that your Gnocchi batter isn't too damp.
8. Using a tablespoon, scoop up about 2 to 3 teaspoons of batter and then holding the spoon at an angle, use your finger tip to gently push the ball of dough from the spoon into the bed of flour.
9. At this point you can either shake the dish or pan gently to ensure that the flour covers the Gnocchi or use your fingers to very gently dust the Gnocchi with flour. Gently pick up the Gnocchi and cradle it in your hand rolling it to form it in an oval as best as you can, at no point should you squeeze it. What you're looking for is an oval lump of sorts that's dusted in flour and plump.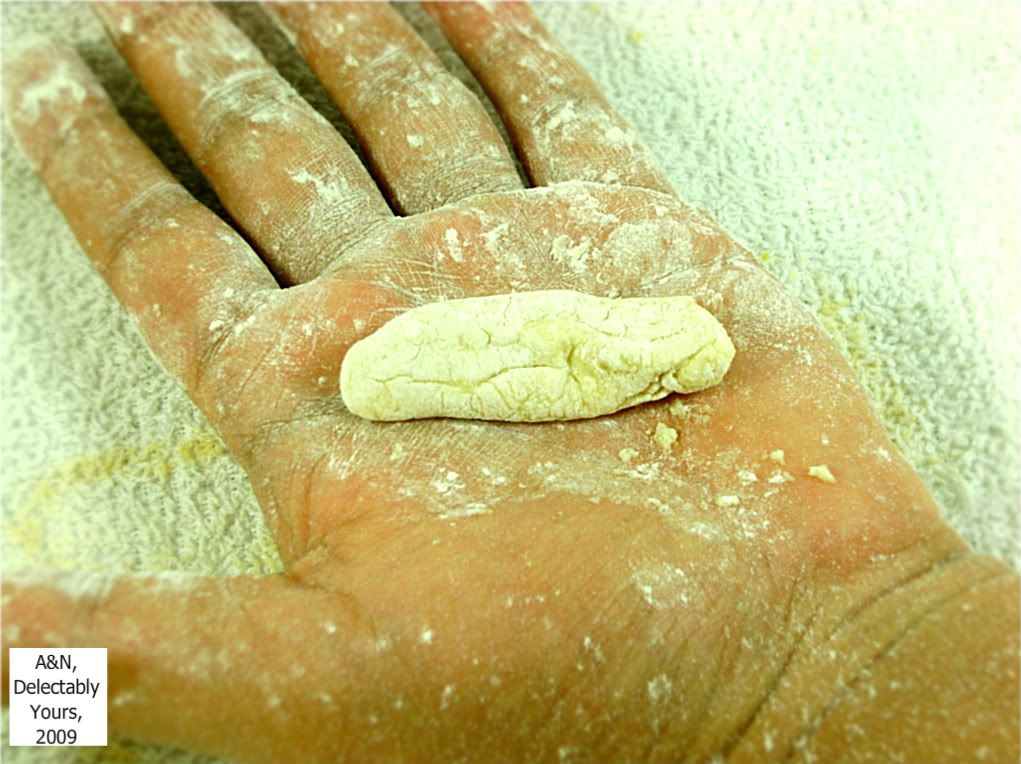 10. Gently place your Gnocchi in the simmering water. It will sink and then bob to the top. From the time that it bobs to the surface, you want to cook the Gnocchi until it's just firm. This could take 3 to 5 minutes.
Have a sheet pan ready to rest the formed Gnocchi on. Line the sheet pan with wax or parchment paper and dust it with flour.
For the sauce:
5-6 tbsp Red pepper, finely chopped
1 tsp Sage or any herbs you may want
1/2 tbsp butter
1/2 tsp salt
1/2 tsp pepper/paprika
We stuck to a simple sauce. We tossed some finely chopped red peppers and some sage in some butter and accentuated our already rich Gnocchi with some colour ;)
The recipe recommended that we make the Gnocchi, test one or two and then refrigerate the rest for an hour or so. We highly recommend this step. If it wasn't for this resting time, our Gnocchi would have surely crumbled in the water.
And this Gnocchi is WORTH it all. It was so light and so, so, so good that my mouth salivates even now as I write this post. Some of our Gnocchi was not firm while the rest withstood the hot water test pretty well ;) Frankly, we were too tired to take too many pics. So, I leave you with few pics, but this is a must try at least once. I've tried the potato Gnocchi (which I thought was tough) but found the Ricotta Gnocchi needs a lot more patience and yeah, make sure that Ricotta was drained properly. I'm sure if we'd let it strain for another day, our Gnocchis would have been firmer.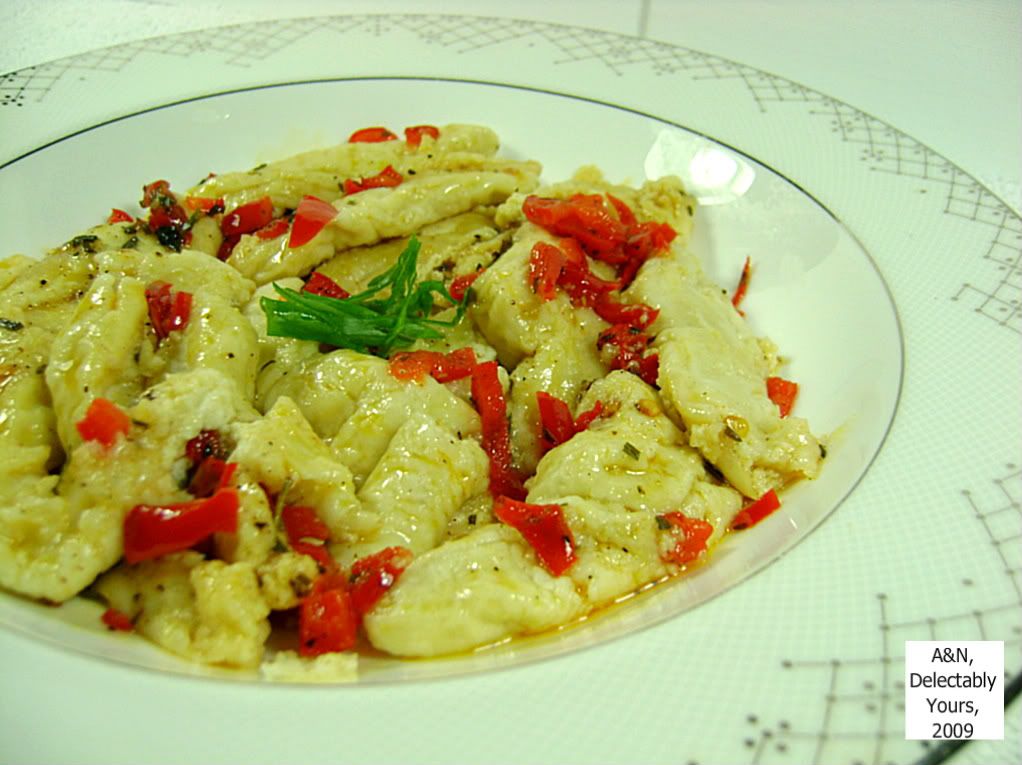 At the end of it all, we loved doing this challenge. We've always wanted to try Ricotta Gnocchi, just not had the courage so far. This challenge pushed us and we are looking forward to doing more with the Daring Cooks!