W
e got six bottles of POM juice recently from POM who wanted us to try the juice. While we love to drink it as a juice, inspiration hit us right on our creative bone and we decided to make it into a savory gravy sauce. The only cuisine that seemed to go great with such a ridiculous idea was Chinese. The all forgiving stir fry which was suddenly going to be bathed for the first time in a tangy red sauce. We had this with tons of fresh vegetables and with some steamed rice, and it was such a satisfying, yet indulgent meal. For a person like me who loves tangy food, this was pure delight! Here is the recipe.
Ingredients

For the sauce:

16 oz POM juice
1/3 cup Tomato sauce
2.5 tsp dark Soy Sauce
5 tsp Cayenne Pepper
1 tsp Chopped Ginger
1 tsp sesame oil
2 tbsp Red Wine vinegar
1 tsp corn starch
Salt to taste

Vegetables:

1 medium broccoli, cut and stems diced
1/2 cup sugar snap peas with pod
1/2 cup carrots, sliced lengthwise,
1/3 cup spring onions, chopped
1/3 cup green bell peppers, chopped or sliced lengthwise
1/2 tsp garlic, finely chopped
2/3 cup tofu cubed
3 tsp vegetable oil
1/2 tsp sesame oil
Salt to taste

1. First, use half the oil from the 'Vegetables' section to fry tofu. We just add some oil on our tava/skillet and let the tofu become crisp. Keep aside.

2. For the vegetables, cook the broccoli in the microwave for about 5 mins and keep aside. Cook carrots similarly.

3. Meanwhile, add all the sauce ingredients, make sure there are no lumps and bring it to a boil. Let this sauce reduce and thicken on medium heat for about 15 mins.

4. Heat the rest of the oil from the 'Vegetable' section and add scallion and garlic, sugar snap peas and cook for 3-4 mins. Then, add bell peppers and let cook for a good 3-4 mins. Add the carrots and the broccoli and toss around with salt for 2 mins. Once they are crunchy and half-cooked, add the vegetables into the sauce and close. Cook for about 7-10 mins until the vegetables absorb the flavours of the POM sauce gravy!

5. Serve hot with steamed rice.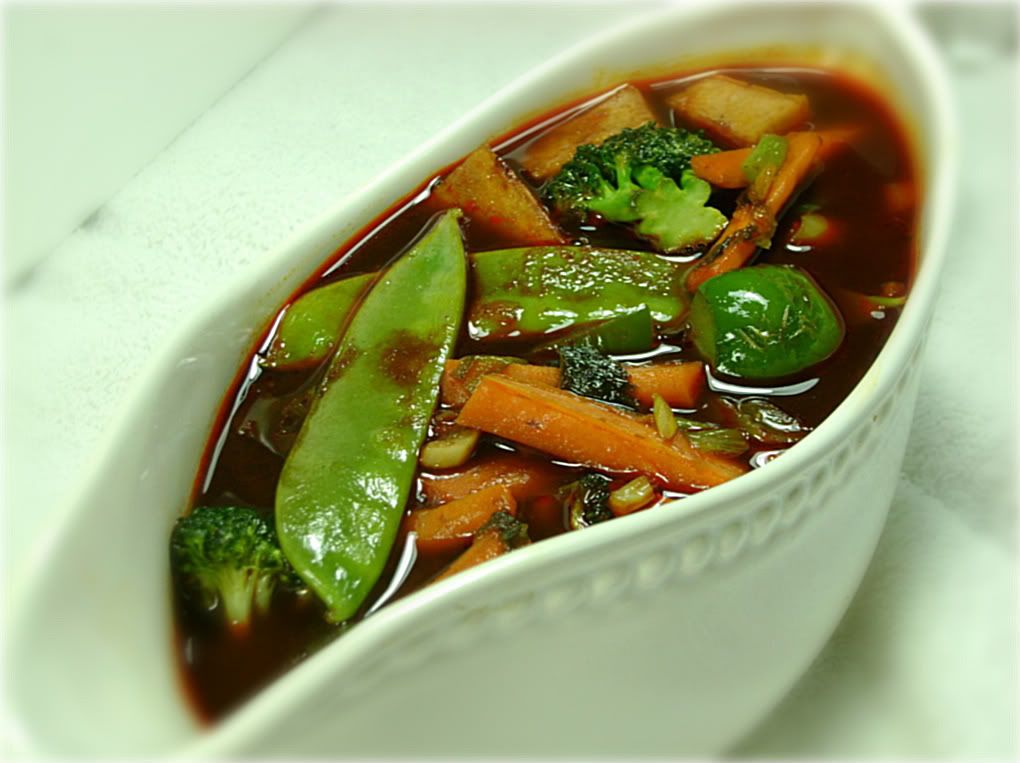 I must admit I was quite skeptical of A's idea. So, I ended up drinking 2-3 bottles of the 6 bottles of POM juice after my morning run in about a week's time. It is super tasty and I must say, very natural! It boosted my weekday mornings. And it is a must buy if you are buying your juices for summer. We have it in the refrigerator now and is great even just as a juice! But then, well, A had other ideas :|

He very smartly hid the last 2 bottles and the day I spent searching for the juice, he made this sauce for dinner while a very skeptical me kept aside a small quantity of veggies aside, just in case :P However, all this changed and I threw in the veggies quickly into the POM sauce and had it along with steamed rice. If you don't like tangy food, then this isn't for you, but then, who doesn't right? :)