I
haven't really been on this space for sometime now. However, I'm still active on the food blog scene though I haven't commented on any of your posts, even those that I loved. I've surely bookmarked them for the umpteenth time hoping to make them soon :) I was wondering why I hardly seem to blog nowadays, and why I hardly seem to want to go around commenting. I realized its tiring. A's stopped doing it. He's tired of the 'you comment- only then I comment back' world of food blogging. And frankly, so am I. We didn't start this blog to receive comments. A cooks rather well, he is an inventive cook, while I play the supportive role. I cook fairly well, support him by eating his food by not being overly worried about what I put into my mouth which will affect my waist (I know I should be :P) Anyway, we cook fun stuff almost everyday because of his never ending enthusiasm and imagination. Sometimes, we're just too tired to take pictures, post them, write a post around it... not because we don't want to do it, but because thankfully, we stopped where we started - to cook for the blog alone. And not for ourselves. I keep in touch with several food bloggers through Facebook or Twitter and its way easier to hold a sane conversation there than just comment on the blogs. Also, its not a question of gratitude, its a question of keeping up with the number of food blogs.
This is again not just the reason why I haven't come down to your blogs. I respect the effort you guys put in and by first hand experience know what it is like. I admire some of you for having full-time jobs, kids, other issues and still garner the energy to blog about what you're passionate about: food. I was weary of the blogs, the food, the comments. Especially the false ones. We are not really old in the blogosphere, but that doesn't make us new either. I've noticed that there is a mad rush to comment on every post of every blogger's and discover more and more blogs just to make sure they come back to yours. There is a mad rush to say: 'nice recipe' or 'great click' for everything. See, one could see these as encouraging comments, but at the same time, I personally find it way more encouraging when I understand why you think this is a nice recipe and how I can improve the picture (especially when its not the best). Oh yes, I've been guilty of doing the same and that is why this post comes so late. Sometimes, I don't know what to say about some recipes. I'm not and will not expect everyone to post only stuff that I've never done before or tried before or stuff with exotic ingredients. But I'd like the comments I receive on my site to be genuine, to be respectful of my efforts and help me do better. Tell me why you think this is a great recipe. Tell me how my pics can improve. I'm someone who believes food should remain looking like food and not as a painting. And some of us achieve that balance between homeliness and great photography not bordering on artificiality. I'm still striving for the same and only ask for support and not blind admiration for nothing. I will not promise to find every recipe of yours great and every picture of yours brilliant, but I promise to keep an eye out for you, admire your effort and remember that at the end of the day, our blogs are just a chronicle of our memories with food, our passion and most importantly something we chose to do out of love and not for competition.

After losing several regular readers after that longish first part of the post, let me resume with the recipe for those that are still hanging on to say: great recipe ;) hopefully! A's fallen in love with bulgur. Literally. He wants to eat it everyday now. For lunch and dinner. (Thank God, he's not a breakfast person) I used to love bulgur, but thanks to A, I've become jaded with the idea of bulgur and couscous. Either way, this is a recipe we tried long back and loved it. This is one of the very few ways I enjoy zucchini. Zucchini type of veggies are not my faves. They are very much A's faves. I have no idea how I married this guy. To come back to the recipe:

Ingredients

Zucchini - 1 medium sized - cut into discs
Potato - 1 medium - cut into chunks

For the barbeque rub

2 tbsp brown sugar
1/2 tsp salt

1 tbsp cayenne pepper/red chilli powder
1 tsp vinegar. We used Rice vinegar
1 tsp Olive oil

Bulgur - 1 cup soaked in hot water (I have no measurement, really. Make sure to cover the bulgur though) - season with salt, lemon juice and olive oil while soaking in water itself.
2 tsp Vegetable oil
1 tsp red chilli powder or cayenne pepper
1 tsp dried herbs.

1 Jalapeno/green chilli, diced

1. Mix all the ingredients for the rub and rub on both sides of the zucchini and let it sit for 15 mins.

2. In a skillet, add vegetable oil and let it get hot. The pan should be searing hot. Then arrange the marinated zucchini slices on the pan ( we used a cast iron pan) and let it get brown on both sides.

3. In the meantime, microwave the potato chunks with little water until they are fork tender. Drain the potatoes and keep aside.

4. Once zucchini is done, remove them and keep aside. Add the potatoes to the same skillet, add salt and let them roast until tender. They shouldn't be falling apart.

Note: The zucchini lets out water while marinating. Don't throw this away. Use that water while charring the potatoes. Adds a wonderful flavour.

5. Heat a tsp of oil, add the jalapenos/green chillies. Saute the bulgur (which by now should have absorbed all the water) with some red chilli powder and any herb you like in the same pan. We used dried oregano. Serve warm with the charred veggies!

Simple ain't it? Since I'm not a huge zucchini fan, I added a couple of more potatoes for myself, but after I tasted the zucchini, I'm a convert now and have tried several zucchini recipes on my own now! Frankly, I'm always skeptical of A's experiments and this time around, thanks to his bulgur obsession, I didn't want no part of it. Yet again, I was proved wrong and I regretted adding more potatoes to the veggie mixture!

Do try this. Its really simple and the flavours shine through. I don't really have a sophisticated palate like some, so flavours are categorized into: I love this, I like this, I can manage to eat this and I hate it. This fell into the 'I love this' category. For once, I could identify what went into the barbeque like rub than just gorging on the food.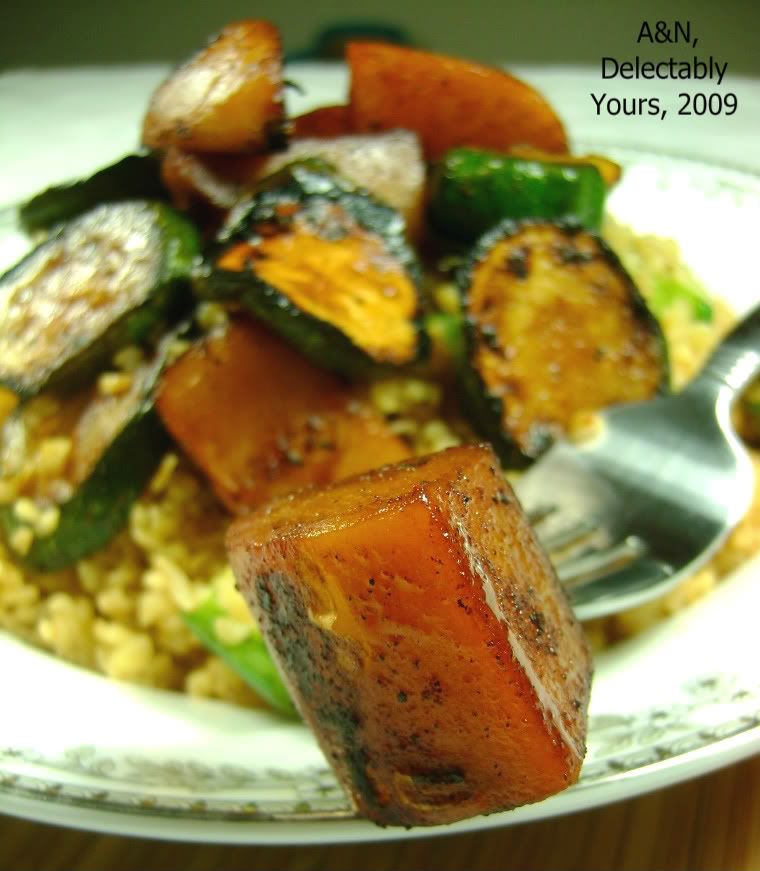 P.S. - I don't know if I've made myself clear with this post. Again, the intention is to make a lot of things clear in my own big head. And to reiterate to myself why I blog in this space and why I need to continue to push through with my opinions without worrying about the number of followers I lose or gain or the number of people who will stop visiting me. Thanks for listening. Really.