F

irst of all, a very happy new year to everyone! I hope 2010 has been treating you alright so far. N is in India so you'll have to bear with my geeky posts for sometime now ;)
Things have been rather hectic over the last month and a half. But it has a lot of fun! N's sister flew in for her Christmas break. Then we also had a food-blogger friend visit us (who shall remained unnamed :P). N's friend from grad-school days also flew in. So a lot of people and tons of fun. Playing Charades, UNO, Clue, visiting the Coke Museum just to name a few. We also baked a couple of things...
OK that was a lame attempt to transition into the crux of this post but well, there is a reason why N writes the posts usually ;) I, on the other hand, asked her if Shakespere was British or American :D
I tried a banana bread when 8 hungry folks were having a ball chatting and playing games and it came out pretty well. But it wasn't eggless. We have a friend U, who always insists on eggless baking. Its not that she doesn't eat eggs. She feels a lot better if the same thing can be made eggless. After all the ravenous guests had left, I tried this banana bread on a whim and it came out super moist and very delicious. I have memorized a basic Dorie Greenspan muffin recipe and since then, I've been trying to make some breads by leaving out the eggs and throwing my own substituents in.
But honestly, I do not think that there are any real 'substituents' for eggs. I have immense respect for food bloggers who even take on Daring Baker projects and execute them superbly without eggs, but I really do think that there are no real 'substitutes' for eggs. Eggs act as binders, apart from imparting additional fat and moisture to the cake. Its the binding capabilities of the egg that makes it very unique. The addition of eggs gives the cake a certain sponginess and a texture that can't be matched otherwise. But it is certainly possible to make delectable cakes and loaves without adding eggs. At the risk of sounding immodest, here is one ;)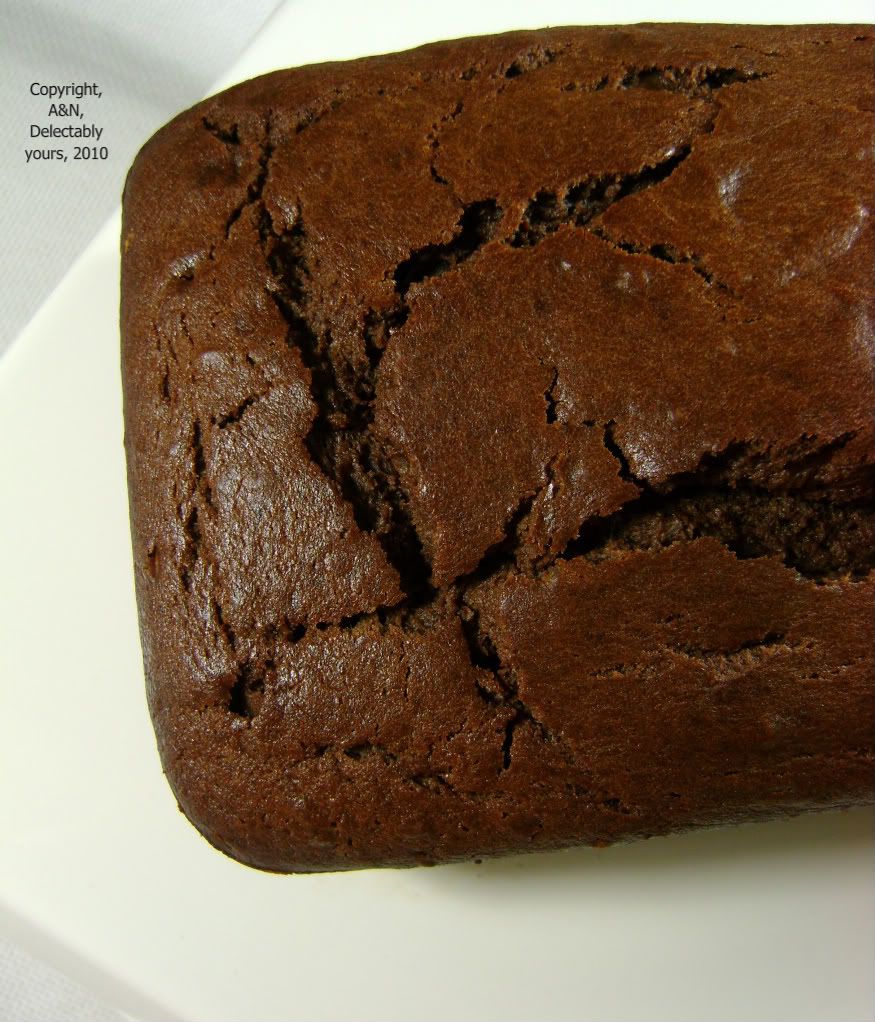 1 1/2 c all purpose flour
1/2 c milk (i used 2% reduced fat milk)
3 small to medium sized bananas, ripe
1/2 c semi sweet chocolate chips
* the amount of sugar really depends on how sweet the bananas are. The ones I had were not too sweet. You might want to add about 1/2-2/3 c first and then add extra if necessary.
1. Preheat oven to 350 F with a rack in the center.
2. Puree the bananas, 1/2 the sugar, vanilla and the milk in a blender or food processor. Strain out big chunks of bananas.
3. Melt the butter and the chocolate chips in a microwave or a double boiler. When everything turns into a uniform melt, add the remaining 1/2 c sugar and mix with a spatula. Let the mixture cool down for sometime until lukewarm.
4. Sift the dry ingredients in a separate bowl.
5. Add the sifted dry ingredients and the banana puree alternately into the bowl containing the chocolate melt, ending with the puree. I mixed the ingredients with a spatula rather well to make sure there were no lumps, but I didn't find it necessary to beat the ingredients.
6. Pour the batter into a greased medium size loaf pan (9" X 5", 2.75" deep).
7. Bake for ~30-40 mins. If you oven has a light, use it and do not open the door until you see cracks on top of the loaf. If your oven doesn't have lights, there is no need to open it for at least 25 mins. After that, check with a skewer every 5 mins. until it comes out clean.
8. Take the loaf pan out of the oven and let the loaf cool inside the pan for about 45 mins. I placed the loaf pan on a wire rack. At the 10 minute mark, I ran a knife along the borders of the loaf.
9. Run a knife across the edges of the loaf one more time at the 30 min. mark. You could remove the loaf from the pan and eat it but N and I had some errands to run so we ended up leaving the loaf in the pan to cool down completely.
The loaf was really moist and didn't have any 'doughy' banana spots in it. I haven't changed anything in the picture. I took simple ISO mode pics with Macro ON and under a regular tubelight/fluorescent lights with our digital camera in order to show the color of the loaf.
As a twist, you could thrown in 1/2 cups of chopped toasted pecans or walnuts. That'd be a killer combination! and as the case is with most cakes, it tastes better when eaten after a couple of hours. The flavors really develop by then. Some warm banana bread with a scoop of Vanilla ice-cream would be great too. Well, I'll let you guys figure out from here onwards ;)