3
months later, I return to 'my' home in the US. I was in India starting January and spent time until the beginning of April. While the whole idea was to spend time until mid-March, A's visa delays ensured that we made a quick trip to Kerala, put on an extra 20 pounds in the last 15 days, fall ill, meet some more people, answer more questions about having a baby, smile more at unknown people and watch A getting pampered more. I also made sure to make up by meeting some food bloggers -
Sra
,
Srivalli
.
Anu
couldn't make it, so we missed her, but overall, a wonderful time was had by all :) I also spoke to
Deeba
and
Aparna
on the phone and had tons of fun doing so. I hope to meet them the next time I hit India! This trip also meant that a lot of snacks made its way across seven seas to the US. Murukku, Seedai, Mixture, Laddoo, Halwa, Burfis - you name it and we have it. All home-made by my granny whose exploits should be written in the NYT! Really.
We came back only to fall ill with fever and cold and cough and some other very exciting things happened. No, I'm not pregnant yet, but other interesting avenues have opened up and I promise to update you on that soon. Just waiting for one last thing to click. Anyway, we haven't been cooking anything major though our social life has been quite happening ever since we returned! It was the same old stuff we were making. A and I have fallen into a rut. Same Thai curry, same pasta, same Aloo-Gobi, choley, Kadhi, same vethe kuzhambu, rasam, usili happened, until one day, we just thought to ourselves how we had just NOT tried anything new. No new ingredient, no new dish, let alone an ingredient!
I decided to change that by making this salad. I don't make too many salads at home thanks to my generous hand with dressings which in turn makes my salads quite soggy and unpalatable. This time, I made A do it. He's always cautious with his ingredients. There is no flair, there is no passion, there is no random generosity, there is no swish of the hand, there is no need to finish that extra drop of dressing just because I don't want to find a box to store it. He is the boring geek, the scientist who measures out milliliters of chemicals to create that perfect 'I dunno what.' So, he naturally excelled with this salad. He recreated an Apple Gorgonzola salad we ate at
Buca Di Beppo
, only without the luscious Gorgonzola cheese. We didn't have any and did not have any patience to go run and get some.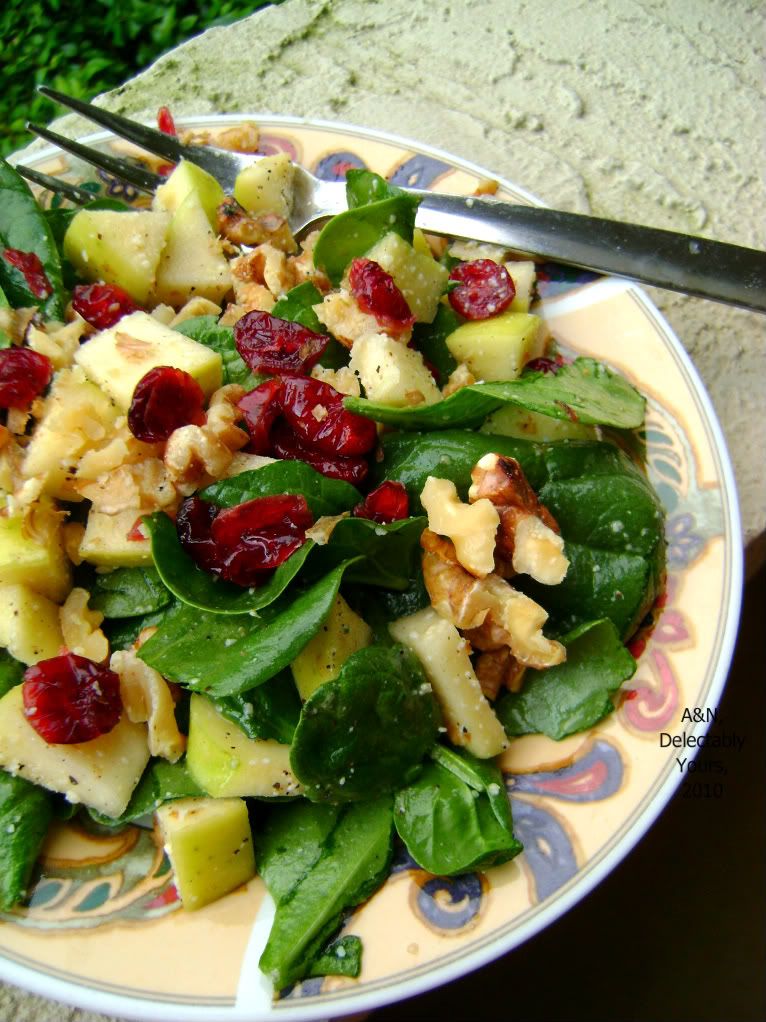 Its a different thing that we realised we had NO pasta at home. This realisation dawned on us just at the right time. When the water came to a rolling boil, when the sauce was ready and when the veggies were all ready - to be thrown together. Fortunately for me, this was also the time that A decided to run out to get pasta and the salad was ready. Just for me. I'm not kidding you. I made sure to clean the bowl of ALL the cranberries, walnuts and apples. I decided to show pity to the salad maker and left him some sorry looking leaves. Now since this post has gotten really boring thanks to a brilliant writer's block, (Read it as you want. Brilliant writer has a block or, the writer's block is so brilliant this piece is everything but brilliant. Get it?) and since I've also thrown in a story in brackets, I shall take pity on you, my poor blog readers (still!) and give you the almost-nothing great recipe. But the taste was great. Promise. Try it this summer and you will be hooked.
Ingredients
2 -3 cups baby spinach (Get the pre-washed ones. Saves you the very little time that you spend washing it :P)
1 large apple, chopped (We used Golden Delicious)
1/2 cup cranberries (I'm being nice here. I added a 3/4 cup :D coz I love these dried treats)
1/2 cup roasted, chopped walnuts (I speak the truth here :D make that 3/4 cup if you are a nutty person like me)
1-2 tbsp Olive oil
Salt and Pepper to taste
1. Chop the apples, roast and chop the walnuts. Mix and keep aside.
2. Heat some water and add the cranberries to it to plump them. Reinvigorate them and once they look plump, add them to the apple-walnut mixture.
3. Add olive oil, salt and pepper to the above mixture and mix well
4. Add the spinach in the end and toss well.
That's all. Yes. And if you have a husband, you don't even need to do the above four steps. You just need to do one.
1. Watch :D
Sorry, make that two.
2. Eat.
The pictures prove how hungry I was to, eat it. I took one picture. Just one and I post that here with great pride and love :D
In other news, like always I promise to be regular and better with my writing and A promises to make more good, better and fun stuff for this blog. At least we try! ;)