N

and I are usually pretty bad with cookies! What a lovely, encouraging way to start writing a post after ages ;) But it is the sad truth. The recipes are pretty easy to follow, we use all the right ingredients, and thanks to my profession, we even try to measure as accurately as possible. But when they come out of the oven, they do not look or taste like the ambrosia we so desperately crave for. Instead, we get these adobes that could shatter out jaws into smithereens. But N and I love to bake and we typically never give up on anything. We even had the gall to try macarons recently. Needless to say, we failed ;) OK enough that is self-deprecation!
One fine Saturday, N and I decided to bake a funky cake. Something we had never tried before. We tried to get some inspiration from books so we decided to call upon Dorie Greenspan. As we opened the book, we stumbled upon a particular page, thanks to a bookmark placed randomly. N and I smiled at each other after seeing what was on that page. It read "espresso-chocolate shortbread cookies." Reveries of unsuccessful experiments and attempts started to flood our brains. But on a whim, we decided to give cookies another shot. N told me that shortbread cookies are apparently very soft, buttery and delicate. Considering our luck with cookies in the past, we even realized that we didn't have any espresso powder. And I was quite averse to expending 2 sticks of butter on something I wasn't confident :P So we even decided to halve the recipe. Since we made these subtle changes, I think I can go ahead and post the recipe for the cookies without getting into copyright violations ;) Suffices to say that Ms Greenspan, N and I LOVE you and credit you (partially :P) for these fantastic cookies.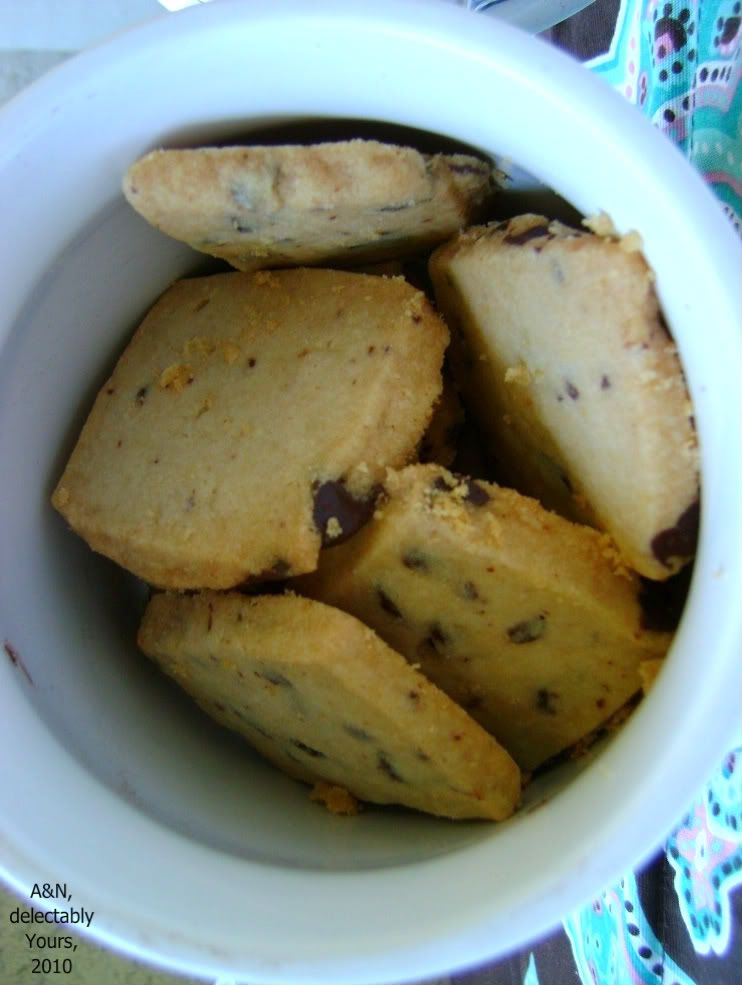 1 cup unbleached all purpose flour
1 stick butter, cut into cubes and softened
1/3 cup powdered sugar (obtained by pulsing granulated sugar in a food processor)
1/2 c mini-chocolate chips
1. Beat the butter and sugar in a bowl with an electric beater until smooth and creamy, about 3-4 mins.
2. Add vanilla extract and beat a couple of more rounds.
3. Add the flour in 3 batches and beat until just incorporated. Do not beat excessively.
4. Fold in the chocolate chips with a spatula. Cover the bowl with Saran wrap and refrigerate for an hour.
5. On a floured plastic (we used a zip loc bag), roll out the dough into a 1/4 inch rectangle. Before you do this, make sure the dough is hard and not too soft. This can be tested by trying to roll it with a rolling pin. If the dough is hard enough, it'll offer some initial resistance and then rool out fairly easily. If you do not observe this initial resistance, it means that the dough needs to be refrigerated again.
6. Take another zip loc bag and place it on top of the rolled dough. Refrigerate this sheet for another hour or so. This helps cookies retain their shape upon baking.
7. 10 mins prior to taking the refrigerated sheet, preheat the oven to 325F.
8. Line a cookie tray with parchment paper. The dough has plenty of butter so it is not necessary to grease the parchment paper further.
9. Cut about 2 inch squares while the dough is cold. Place the squares on the tray and bake it for about 20-22 mins. Note that the cookies won't turn very brown. They'll have a pale yellow color.
10. Cool them until they reach room temperature. This is very important. N and I, in our fit of joy, tried to eat one straight out of the oven and it disintegrated easily. So we had to learn things the hard way, as usual ;)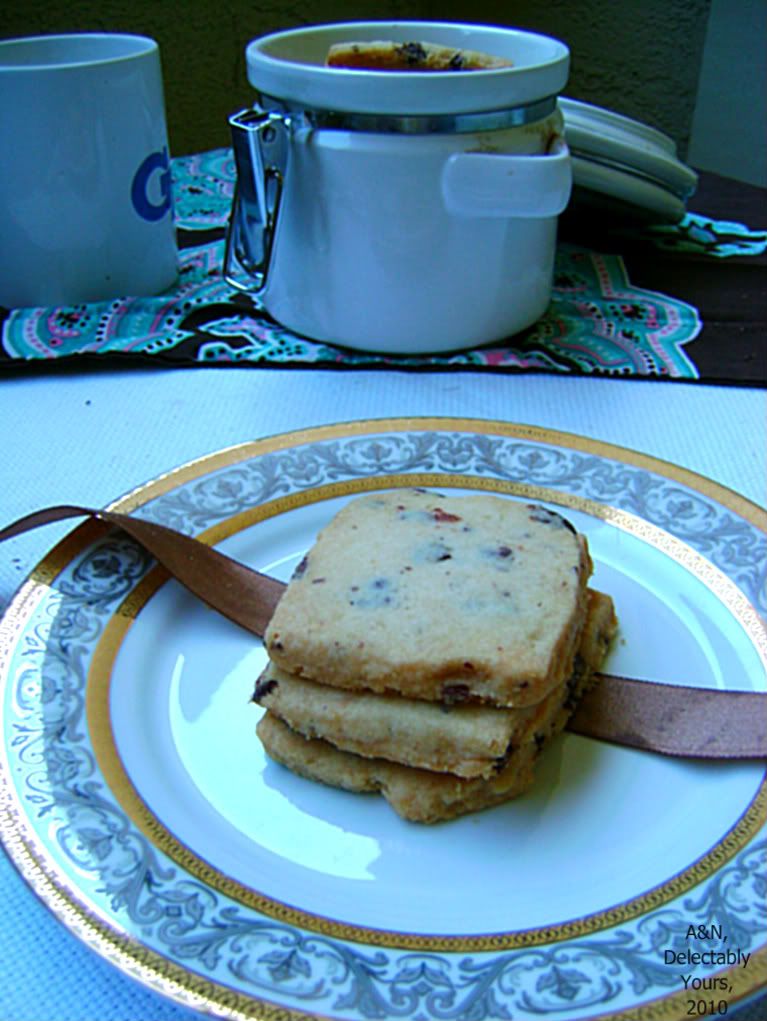 We are SO glad we tried these cookies. The buttery aroma filled the house during the whole process and the cookies turned out to be pieces of heaven that just melted in our mouths. Absolutely superb!
We are over our cookie-baking fears and ready to bake some more. We've had our share of disappointments in the past but well, as they say...That's the way the cookie crumbles ;)