D
o you like eggplant? I know there are either 'haters' or 'lovers' in each of us when it comes to eggplant. I love eggplant. My eggplant fascination goes a long, long way. Back when I was a kid, I used to wait eagerly for my granny to make her Vangibath recipe. Nothing, nothing can pull me away from tamarind and other sour food. I love tamarind and could possibly eat it by itself. Okay, I have done that too. But then, I digress.
Actually not. That is the major reason why I love Chinese cuisine. Or, at least the Indo-Chinese food. Its sweet, sour and spicy - all at the same time. However, for all my eggplant fascination, I'm no fan of soggy eggplant in a Chinese sauce. A is. He loves all kinds of vegetables and anything Chinese. So, every single time we go to a Chinese restaurant, he is always wanting to try this dish and I keep avoiding it. Thanks to me being the dominant one in the relationship (I needn't have specified that now, right?), we've escaped the eggplant dish so far.
That said, beggars can't be choosers. Especially, when you beg your husband to cook fantastic food when its your turn to indulge him. How much A loves cooking is actually an understatement on this blog now. And in my life too. I take it for granted every evening that A will come up with something. This is one of those dishes that I couldn't him stop him from making. I agreed on a sulky note to just make do with the gravy and tofu in the dish.
Well, what do you expect, ladies and gentlemen, I was wrong. Yet again. This is one of my favorite Chinese dishes now. I can't claim that all eggplant haters will love this dish, but surely, do try it and let us know how you liked it! Here is the recipe.
1 large eggplant, cut into 1 to 1.5" chunks
1 large onion, coarsely chopped
1/2 cup tofu, cubed and fried with minimal oil until crisp on both sides
1 scallion, bulb and green part separated
3-4 large garlic cloves, finely chopped
3-4 tbsp coarsely chopped ginger
2 tsp molasses (optional)
2 tbsp canned tomato sauce or puree
salt and cayenne pepper powder to taste
1-2 tsp red chilli flakes
1. Get started on the sauce. Take 1-2 tsp sesame oil when hot, add sesame seeds, garlic and ginger. When the garlic starts to turn brown, add the tomato sauce. When is almost cooked, add the molasses, brown sugar, soy sauce, cayenne pepper powder, salt, both vinegars and water. Reduce the heat to medium-low and let things simmer for 10-15 mins. Add the tofu at the 5 minute mark so that it absorbs all the flavors.
2. While the sauce simmers, in a separate pan, fry the eggplant on medium heat until tender but not mushy. Add some salt and red pepper flakes to it while its cooking. Keep it separate.
3. In the same pan, fry the onions with some oil, salt and red pepper flakes.
4. Add the eggplant and pour the sauce on top. Cook until the eggplants almost turn soft, about 5-6 mins. This will also let the flavors to absorb further.
5. Top with chopped greens from the scallion.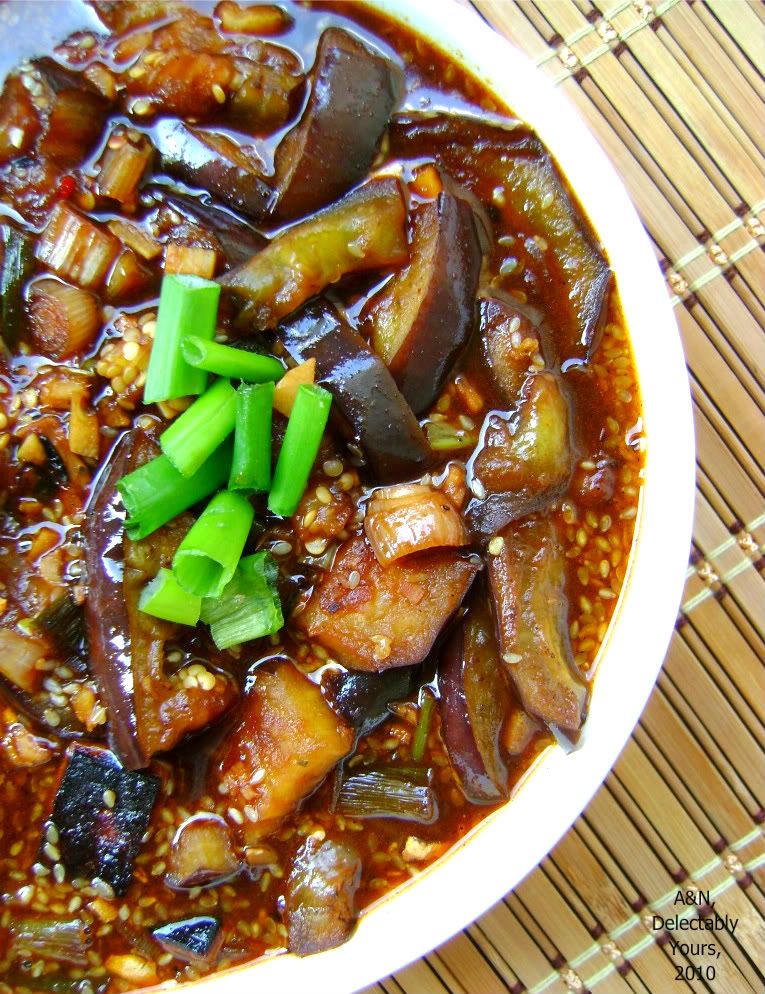 It has this nuttiness thanks to the sesame seeds and the crisp tofu works great against the soft eggplant. I'm sure this'd go great with whole wheat noodles or rice vermicelli too! We had it with hot steaming rice and ate it with our hands :D I think, for meals like this, eating with hands wins hands down (pun unintended!) as against with a fork!