I

hope everyone has gotten over their world cup fevers! For some, it must have ended in disappointment as their favorites got knocked out earlier that anticipated. I'm one of them since I am a huge Brazil fan! But at least they lost to Netherlands that eventually finished second. I don't intend to consume this space with my personal analysis of the world cup but it suffices to say that Spain really deserved to win. They outplayed their opponents in every facet of the game.
Things have taken a turn the personal front as well. I'll be moving to India for good! The support I've received has been tremendous, including the food blogosphere. People have been kind enough to answer some of my inane queries regarding availability of ingredients, oven-related concerns and so on ;)

Coming to Bok Choy, it is something that has been flying under my radar for a long time. No real story about it! I've been wanting to try it for quite sometime and after googling for recipes, I got the hang of how to handle Bok Choy and then came up with this recipe on the fly.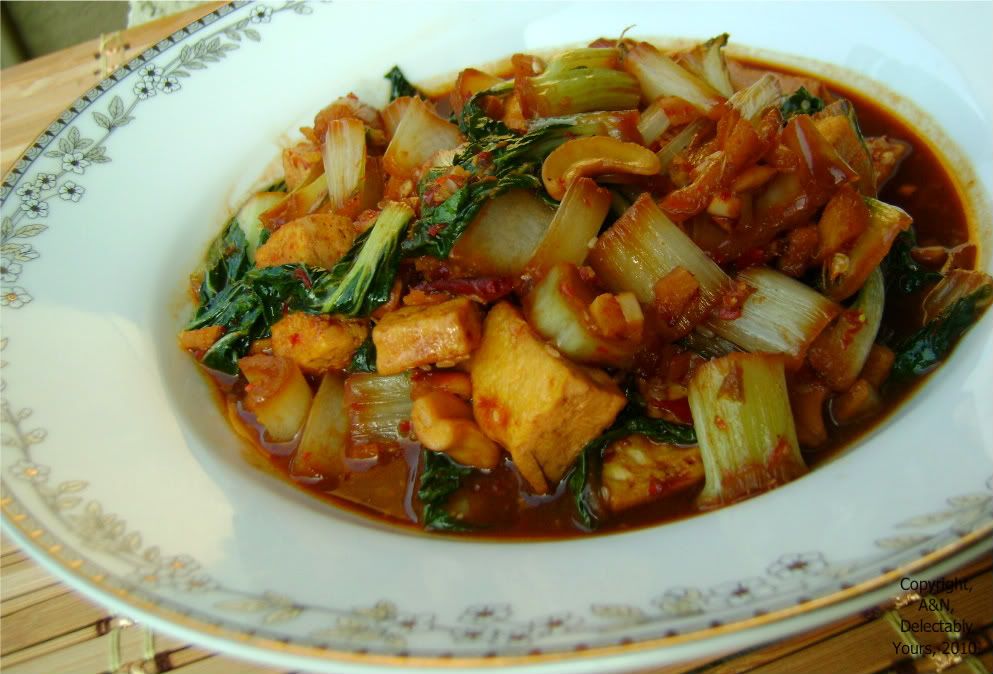 Ingredients:

2 medium size Bok Choys
2 c tofu, cut into 1" cubes and lightly fried on both sides
1/3 - 1/2 c roasted cashew nuts
4-5 dried red chillies
1 tbsp sesame oil
1 tbsp vegetable oil
1 tbsp soy sauce
2 tbsp finely chopped garlic
2 tbsp finely chopped ginger
1 tbsp rice wine vinegar
4 tsp honey
1 tbsp toasted sesame seeds
1 c water+extra for blanching the Bok Choy leaves.
salt to taste.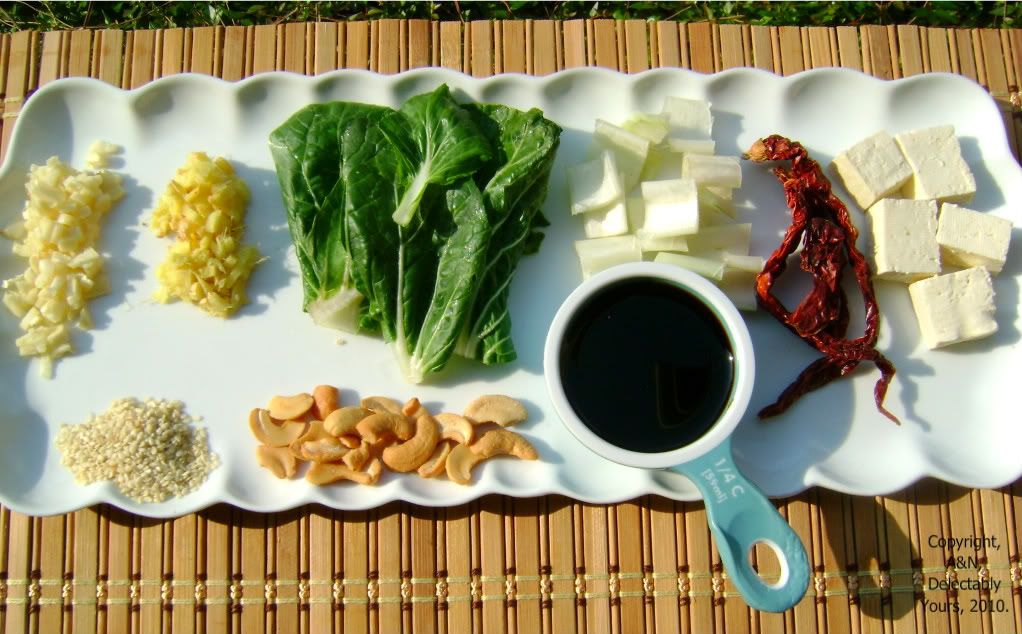 1. Cut the Bok Choy stems into 1" pieces after separating the leaves. Blanch the leaves in hot water for about 30 sec. Remove from water and place them on a kitchen towel to dry.

2. Microwave the dried red chillies with 1/3 c water for about a minute. The water will turn red. Allow to cool. Grind into a paste with some salt and a couple of cashew pieces.

3. In a pan (or Wok), add the vegetable oil, garlic and ginger and set the heat to medium-high.

4. When the oil gets hot, add the stems. Sautee for about 3-4 mins until somewhat tender.

5. Add the chilli paste, the blanched leaves, vinegar, tofu cubes and the roasted cashew nuts.

6. Cook for another 2 mins and then add the remaining 1/3 c water.

7. Cook until the stems are tender to your liking.

8. Stir in the sesame oil and top it with toasted sesame seeds.

This goes well with rice and serves 2 pretty hungry people.