I

n the previous post, I alluded to the soccer world cup that concluded recently. I had the opportunity to watch the finals with a good friend of mine. His family has a sweet tooth and I am always looking for guinea pigs to try my experiments on ;) I baked these brownies the night before and let them sit so that they got sweeter with time. The recipe was inspired by Dorie Greenspan. I took her basic brownie recipe and tweaked it a bit.

These served as dessert after a nice home cooked meal at my friend's place. I'm glad they liked the brownies and to top everything, the finals was one heck of a game. It started off a bit slow but picked up pace after the first half. If it weren't for a red card, the game would've ended with penalty kicks. But again, Spain played better than the Dutchmen and certainly deserved to win the world cup. To cut a long story short, good food+good friends+good game=Great time!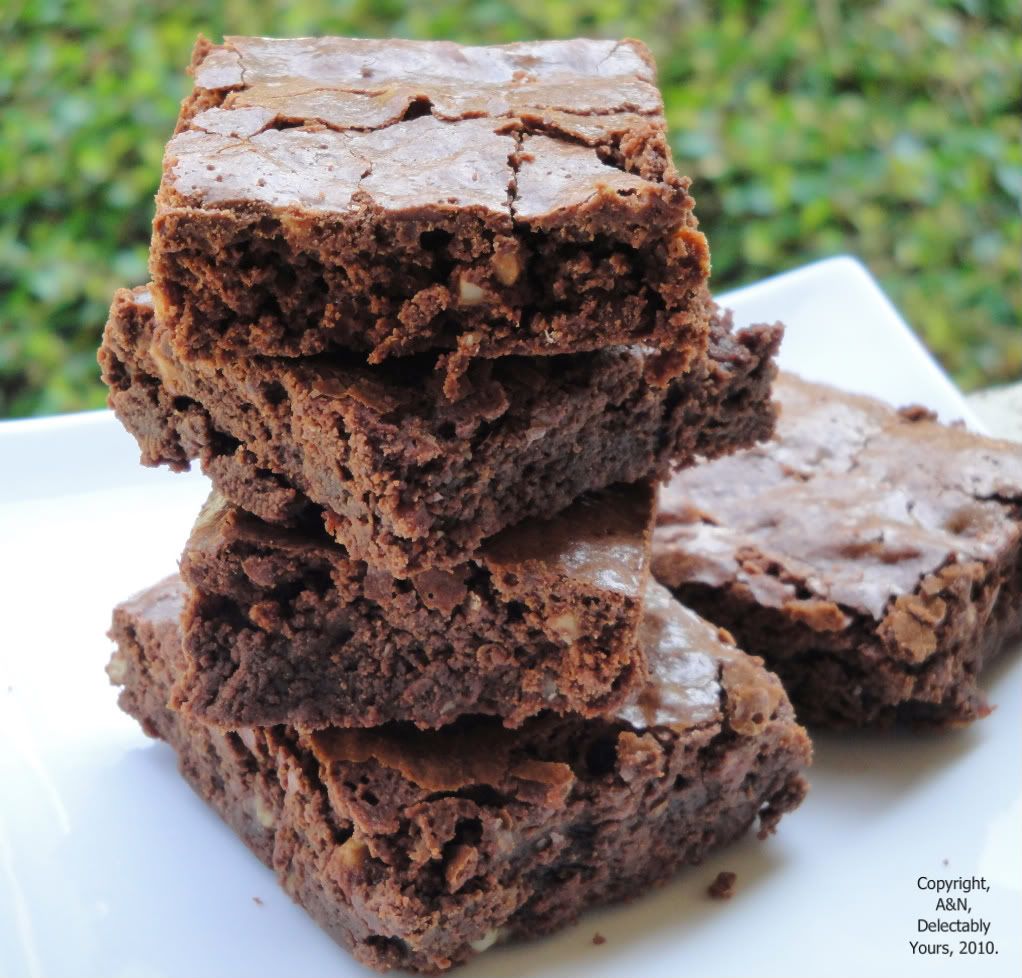 Ingredients:

2/3 c flour
3 large eggs
7 tbsp butter
6-7 oz semi-sweet chocolate chips
2/3 c almonds (toasted and coarsely chopped)
1 tbsp coffee extract
1 tbsp freshly brewed coffee decoction
1 tsp vanilla extract
1 c granulated sugar
1 pinch salt

1. Preheat oven to 325F.

2. Melt the chocolate and the butter in a bowl. I used a microwave. When the mixture is hot, add sugar and stir to dissolve. This will also help the mixture to cool down. Allow it to cool until warm. If you can stick your finger for 10 seconds without discomfort, the mixture is cold enough ;)

3. Add the extracts and decoction to the bowl and stir to dissolve.

4. In a large bowl, beat the eggs, one at a time with an electric beater. Do not overbeat since we're not baking a cake here. We want dense, moist, fudgy brownies ;)

5. Pour the melted chocolate mixture into the egg, stirring continuously with a whisk.

6. Add the flour and fold in the chopped nuts. Do not overmix.

7. Pour the batter into a rectangular pan, lined with aluminum foil. I leave a long strip on one of the corners that lets me pull the whole thing after it has baked easily. Pour the batter into the pan. I used an 8" X 10" pan that was 2 inches deep.

8. Bake in the middle rack for about 50-55 mins. or until a skewer comes out clean.

9. Place the pan on a cooling rack and allow the brownies to cool completely in the pan. Then, pry the aluminum foil out of the pan and cut into squares.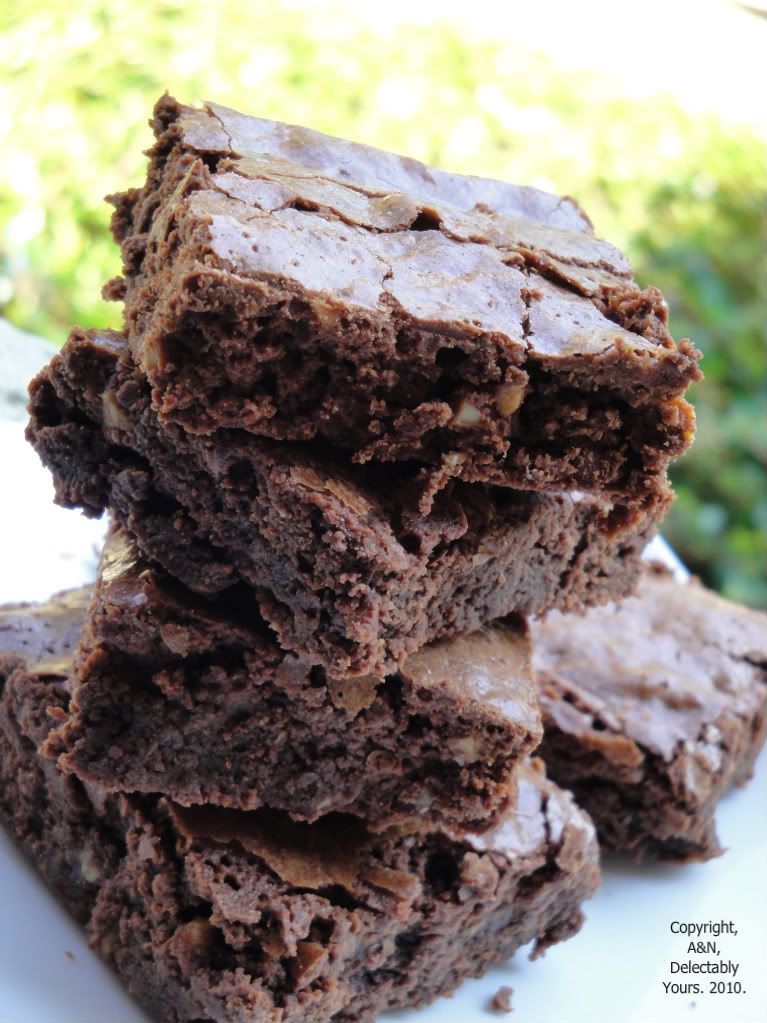 These brownies had a nice crunchy crust on top and were pretty chewy and fudgy on the inside. The coffee was a nice addition. the almonds imparted additional richness (as if chocolate wasn't enough :P).