O

ne of the things that I'll miss the most about the U.S - friends and family here. In certain cases, friends have pretty much become family! One such family (the Gs) are not only a source of moral support for us, but also a source of inspiration. One of the family members is battling cancer and the resolve that person has shown has been nothing short of astounding. It is unbelievable to see the smiles, the sheer appreciation for life and the unfettered determimation to fight through adversity. I truly run out of words to express my amazement!

I recently invited them for dinner. While
tikki-chholay
was the main course, I knew they liked baked stuff. While they weren't particularly averse to eating baked goods containing eggs, they really preferred if they didn't. I didn't have much time and I consider Dorie Greenspan's basic muffin recipe to be a life saver in such circumstances. I have tweaked it enough to remove the egg and be able to retain the texture to a reasonable extent. However, this time, I decided to give it a savory touch. Hence, these Jalapeno Corn Cheese Muffins.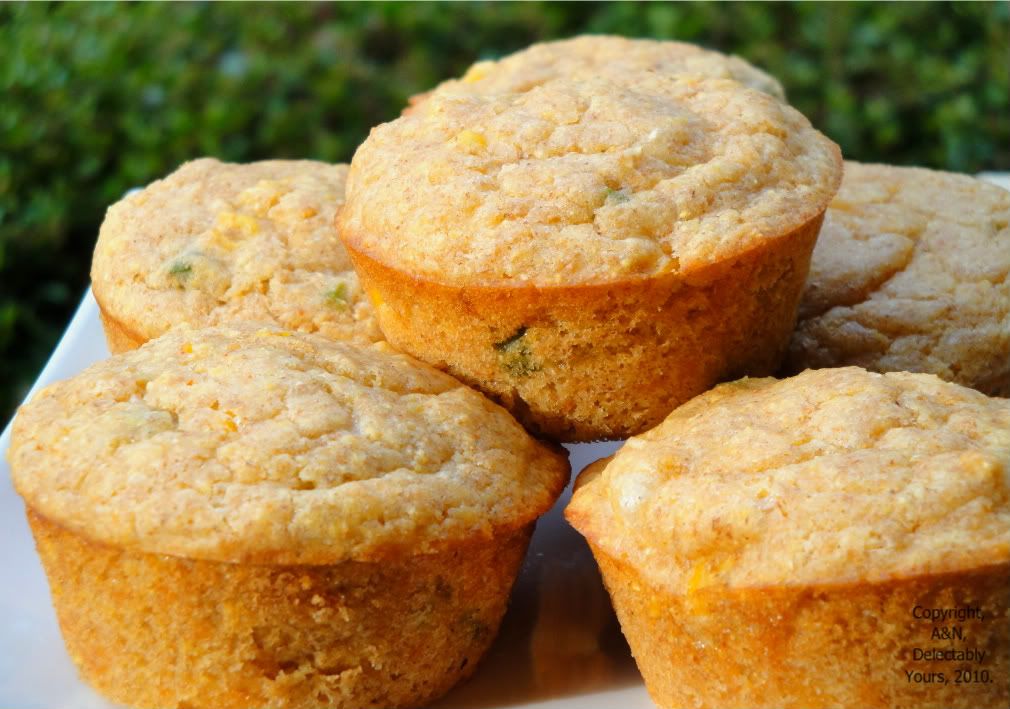 Ingredients:

3/4 c cornmeal
3/4 c whole wheat flour
2 tsp salt
2 tbsp sugar
1 tsp baking soda
1 1/4 tsp baking powder
1 medium jalapeno, finely diced (you could choose to retain or remove the seeds)
1 stick (8 tbsp) butter (I used
Parkay
), melted and cooled.
1/2 c corn kernnels (if you're using canned corn, make sure to dry them)
3/4 c buttermilk
1/2 c milk
1/4 c shredded cheese (I used Mexican cheese blend sold at Costco)
1/2 tsp Hungarian paprika powder (you could replace this with Cayenne pepper)

1. Preheat oven to 400 F

2. Beat the buttermilk and milk in a bowl and keep separately.

3. In a large bowl, sift the flour, cornmeal, baking soda, baking powder, sugar and salt.

4. Toss the jalapenos and corn kernels into the sifted ingredients.

5. Add the wet ingredients (butter followed by buttermilk+milk mixture). Whisk until the ingredients have barely combined and you don't see any uncoated flour.

6. Spoon this batter immediately into a well greased 12-muffin pan.

7. Bake in center rack for about 13 mins or until a skewer comes out clean.

8. Remove from the oven and let it cool on a cooling rack, but inside the tray for about 10 mins.

9. Remove them from the pan and eat them right away ;)

This recipe makes 12 muffins.