A

s I was poring through our previous posts and drafts, I was shocked to see that I never hit the 'publish' button on this post! Since I'm too lazy to edit the post to confirm to present, I'm going to just hit the publish button :P I don't pride on my literary but try to bear with this rather anachronistic post ;)
This has not just been on my baking list, but also on my to-eat list :P N & I managed to have a few GOOD ones at
Alon's
. Since then, I've been wanting to make them at home. It's a pity that I ended up baking these AFTER N left had left for New york. I was browsing through Dorie Greenspan's Baking: From my Home to Yours and I came across her Peppermint Cream Puff Ring's recipe. While I wasn't in the mood to bake the gargantuan looking ring, I did scale down the recipe for the choux pastry dough.
I have to admit that this was one of the easier things to make. Very few ingredients are involved and I didn't even use an electric beater. And it came out pretty darn good. I got too lazy to make the pastry cream, which is typically used as a filling in these eclairs so I just whipped up some cream. The eclairs are just not the same without the pastry cream, but the cream puffs themselves came out rather well. I'm definitely keeping this recipe for future needs since these are fairly easy to make and look pretty cool ;)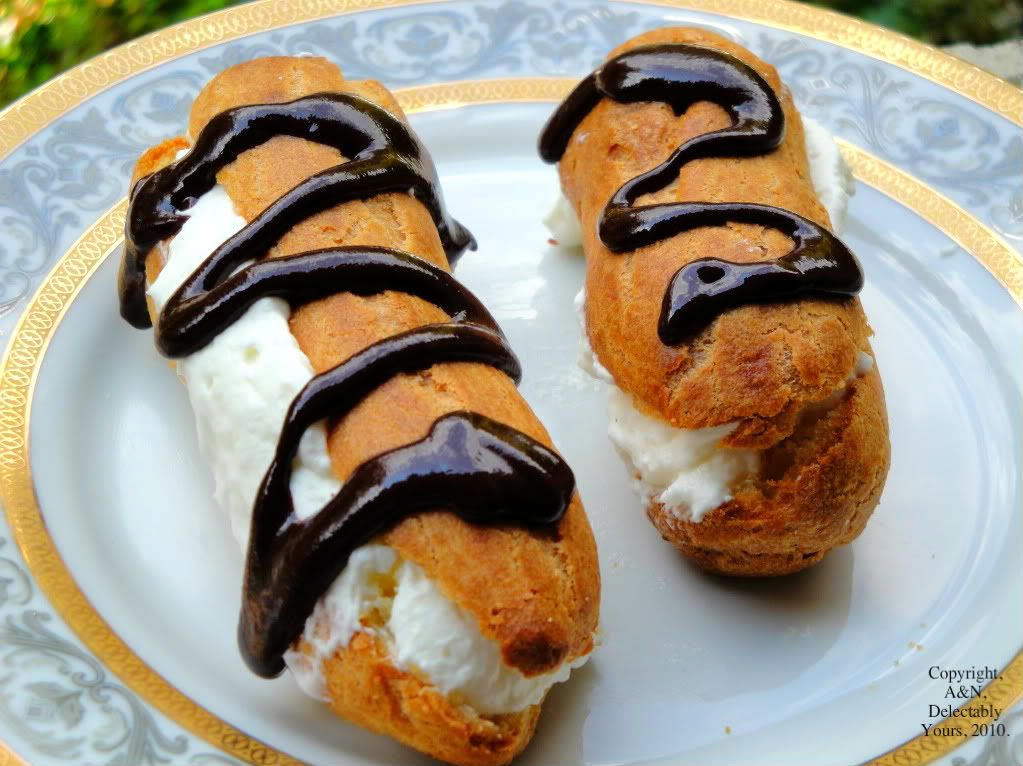 For the Choux Pastry
2 large eggs, beaten (should amount to 1/2 c liquid)
1/2 c milk (I used 2% reduced fat)
For the chocolate drizzle
I have to admit that I ramdomly added some of the leftover cream to some chocolate chips and melted them over a double boiler so I can't give any measurements ;)
1. Preheat oven to 400 F.
2. In a heavy bottom saucepan, bring the milk, butter and sugar to a boil.
3. Reduce the heat to medium-low. Add all the flour at once and then stir vigorously with a spatula. Cook for about 2-3 more mins.
4. Remove from heat and let the dough cool down until warm. In order to accelerate the cooling process, continue mixing with the spatula.
5. Once the dough is warm (if you can stick your finger in for 10 seconds without wincing, it's fine!), add the beaten eggs to the dough. Mix well to form a smooth, uniform and a somewhat shiny/silky dough.
6. Pipe the dough on to a baking tray lined with a silicone mat. I piped it without a tip into wide stripes. If piping is not your thing, just take a small ladle and scoop the dough and place mounds on the baking tray.
7. Bake in the middle rack for about 12-13 mins. Then reduce the temperature to about 375 F and continue baking until the top is golden brown and 'crusty', about 20-25 mins.
8. Remove from the oven and cool them completely on a cooling rack.
9. Cut them in the middle. Sandwich the two pieces with whipped cream and pour some lukewarm chocolate ganache on top. Refrigerate until the chocolate has hardened.
10. EAT!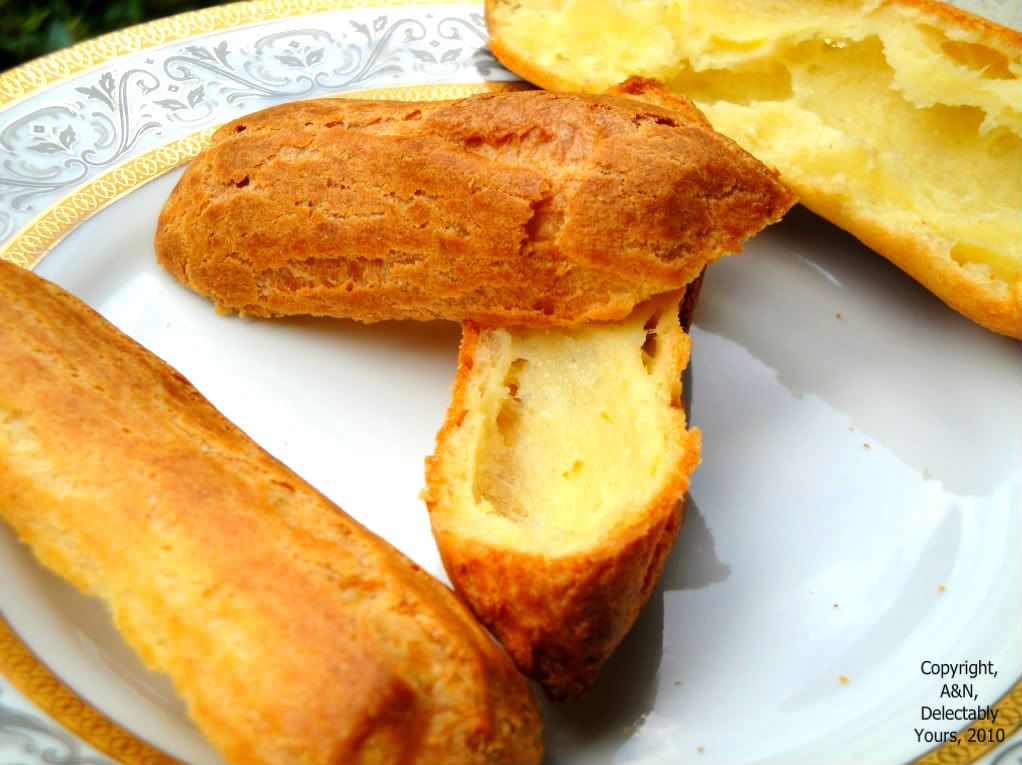 The sight of the choux pastry dough 'stripes' rising in the oven to take the form of cream puffs was really neat. The cream puffs themselves were almost 'hollow' and porous on the inside. I finished a couple even before I filled them with cream ;)
Needless to say, N was not too happy to see the pics. I told her that I'd try to make up for this audacity by baking her a
Croquembouche
some day ;)