Happy New Year to all of you. Or, rather the 4 of you who read our blog :D This post could be reflective and sentimental for rather obvious reasons. It's the end of the year and no one thinks and analyses and dissects every event in 2011 and every person met in 2011 more than me. It has been a fantastic year in all senses of the word. I graduated from the top school for communication studies (Yeah, baby!), came back to India, my beloved India. And of course, to the best husband in the world. I get to praise him once a year, so do tolerate the mush.
Now letting the past slide away gently, moving onto 2012- I have a ton of plans, ideas and this year is possibly going to be the culmination of a lot of plans that remained 'unstarted' in 2011. Cooking lists is one such plan. Since I came back in 2011, highly excited beings that we were, we made a cooking list. A cooking resolution of sorts to say that we will try making, say croissants this year. Of course, I spent most of my time ducking from butter in 2011 too. We have a similar list this year. Only, I don't remember where I kept it! So, fodder for the next post, that will be.
One of the things on my cooking list that I can cross off is Marinara sauce or the tomato sauce for pasta. Every single time I read posts from people saying they made their sauce, I'm all enthusiastic to be this perfect woman making my own pasta sauces and achaars (Indian pickles) Who am I kidding? I love to eat and I'm the most impatient cook in the world. So how will I let Marinara bubble on the stove for 3-4 hours? And pickle? Really, who waits until all the spices are soaked in? This time, I decided to. Plus I saw that the tomatoes were super cheap at
Town Essentials
(Check this out if you're in Bangalore. Uber cool!) So, the last weekend of 2011 was kept aside for Marinara. Also, I really missed my class #MM2011 and our themed dinners. We had an Italian dinner for which my classmates, H, S and A had brought some family classics. Each of their Marinara sauces tasted different and I asked them to send me recipes! This is more like S's mother's recipe that he described to me. Thank you, S!
What happened was this. We hosted, entertained and met more people than A has ever met in his whole life, or dreamt of in his nightmares. Cousins, second cousins. mother's sisters, mother's brothers, uncles, aunts, uncles of cousins, Golu/Navratri visits, Gruhapraveshams, weddings, visiting families, friends from school, friends from college, friends from work, friends from the online world, tweetups, neighbours - you name it and we've socialized with them. In fact, through December, we had guests continuously until the last weekend. We love guests. Okay, I love them. I love people. I love having them over, cooking for them. Fine, will accept. Making A cook for them while I hold intelligent, sparkly conversations laughing at everyone else and bitching about everything else. So, for the last weekend, since A is getting really old, we decided to take it slow. 'No human contact' was the brief I received. Yeah, I'm a sexy kitten, but we'll leave that for now ;) I settled down for a weekend with endless cups of chai and a pile of books and a cooking list comprising of Marinara and this achaar that didn't end up getting made this weekend.
Then
Nandita
called. We succumbed. We went to their house for a New Year's party. Thankfully, it wasn't one of those loud, hajaar people all over the place party. So, we made gougeres and
this dessert
. Turned out pretty well. I had several awkward moments while I was stuffing my face with gougeres and someone came and praised our efforts. That said, the party went well and we got back home the next morning to crash. Then, in the evening, Nandita came home again to drop stuff off and we ate yummy leftovers. Biryani always tastes best the next day. I should know after weekends of 3 years in Hyderabad eating previous night's orders. I knew I'd not get the Marinara done if I didn't start it off. Especially considering how impatient I am. Plus who likes chopping onions right? :P So, I made Nandita chop them for me while I busied myself cleaning the kitchen - parts of which she hadn't seen yet, thankfully! I quickly peeled the already blanched tomatoes (ever heard of super efficient women who leave the tomatoes to blanch and take a 3 hour nap?) and threw it all in together along with some Italian Basil and Thyme (all locally grown, yo!) and let the mixture simmer away. Then she suggested I add some Balsamic Vinegar that I'd forgotten all about. Added some and got this rich wonderful colour. She left soon after but only after stirring the sauce a couple of times which I totally give her credit for :) considering how tasty this sauce turned out to be. Super easy, flavorful and this can be bubbling away on the stove while you do everything else on the side. This sauce surely gets all my tomatoey points and I'm going to make it a quarterly activity going forward.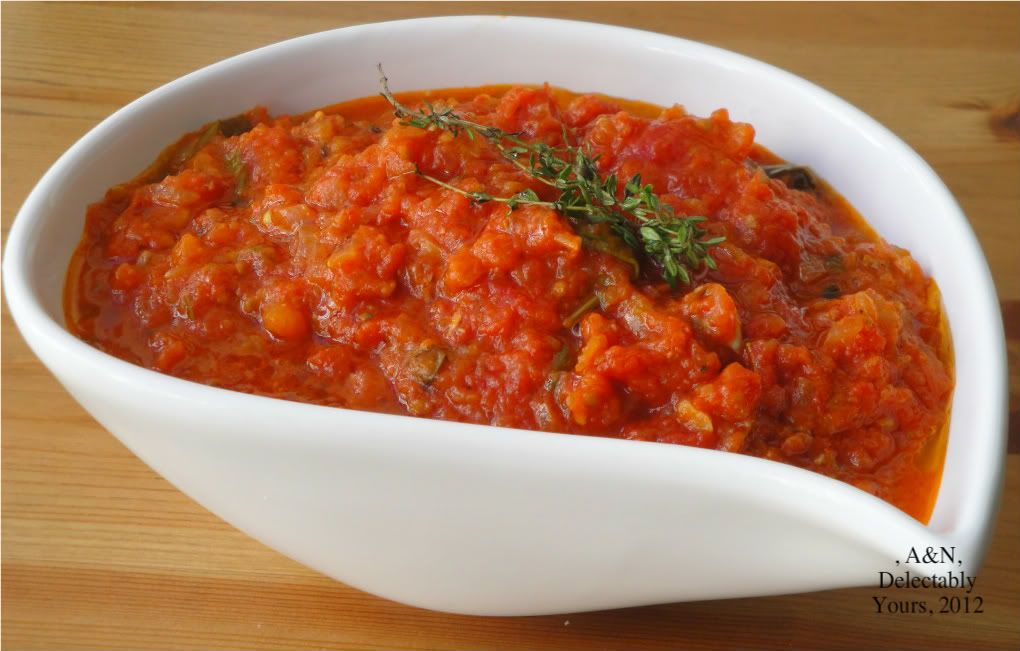 Ingredients
Tomatoes - I had about 20-25 large ones
Garlic - a palmful, finely chopped.
Onions - about 3-4, finely chopped
Butter - 6 tbsp
Balsamic Vinegar - 2 tbsp
Olive Oil - 1/2 cup
Basil - A bunch roughly chopped, or just thrown in
Thyme - a sprig or two
Salt
Paprika or Red Chilli powder
1. Heat water in a large wide bottomed pan, add tomatoes and blanch them, until they are mushy enough for the skin to peel off. A suggested I use a pressure cooker and I did just that. I dumped the second batch of tomatoes into the pressure cooker and they got done wonderfully. A little too mushy but worked very well for the sauce. Keep aside after blanching and recover from the nap and the shock of leaving your gas on. Peel the tomatoes when cold.
2. Add butter to the same cooker (emptied after you take the tomatoes out, of course), add onions and garlic and salt and let it cook well. I didn't caramelise them, though I'd love to try that the next time. I was in a hurry, so added the tomatoes without chopping them. Don't worry, you can run your blender through it later. Take a wooden ladle/spatula and mash the tomatoes. Now is the time to let go of the previous year's stress.
3. After about half hour of the tomatoes stewing, add the basil and the thyme if you wish. I added thyme only because I had it and I thought the basil might be a little less. Upto you. I'm guessing adding mushrooms or any other vegetable like bell peppers (?) now will be fine. Nandita mentioned that she does make her Marinara with mushrooms. Next time, I'm going to try that.
4. Another half hour later, add the rest of the salt, chilli powder or paprika, the balsamic vinegar and stir well. Let it cook.
5. After it's cooked for about 3-4 hours, taste it and season accordingly. Or, let it cook further. I cooled it down completely by keeping it in the fridge overnight and blending it later the next morning. If your sauce is not chunky because you were not lazy to chop up those blanched tomatoes, good for you :) Otherwise, go ahead and blend it. I like my sauce chunky for pasta and pizza, but I like it sauce-y to use as a dip as and when I get the ' I want to eat all the garlic bread in the world' craving.
As you can see, it's a freewheeler of a recipe. You can change the herbs you decide to put in. Add a woody rosemary or keep it simple with basil. It's upto you. Add mushrooms for a heartier sauce. Maybe next time, I will add some carrots, some beets (Indian tomatoes are not sweet, so adding beets may not make it sweeter) and some mushrooms to up the nutrition quotient plus make it a complete meal if I run out of veggies. Roasted garlic would be awesome. But remember the patience bit? Yeah.

Also don't miss out on the butter and olive oil. I easily had about 6 medium sized (average Indian store bought pickle bottles) bottles of sauce. So, all that butter isn't consumed in one go, plus you can go low on the butter/olive oil when you make your pasta :) The oil helps in preserving the sauce.
We hope to post more regularly this year since we have a resolution of about 25 posts this year. About 2 a month and thankfully, I'm all pumped up, so it's going to be a little busy around here :)
Thanks for coming along regularly!