B
oy, has it been long since we posted anything around here or what! Sigh.
I'm someone with severe OCD. Especially with date/day and time. I don't start exercising on Sunday, because work starts on Monday. I don't start anything randomly anytime. I need the beginning of the month/week/year to start it. Yeah, so you see the picture, don't you? So, I postponed blogging to the first of every month. Only that date never arrived. So, finally when December started, I figured I will seize 2012. The Year of the Reluctantchefs, it shall be called, I said to A. Okay, Reluctantbloggers (before any of you point out!)
Then why today, you ask? I actually sat and thought about what I wanted from the next year. My resolutions list was made. Nothing, nothing stops me from making lists. I even know that if I start eating non vegetarian food (which may be never!), I have a list of stuff I want to eat. Remember OCD? Ya. Then, I thought I should kickstart with some of my resolutions BEFORE January, so I have time until the 1st to modify them :D This idea came about mostly because I had the wild idea of running a marathon next year. After two days of trying to stick to my resolution, I've decided to shelve that dream. See? Good I started a good month earlier ;)
With that logic, I should have started blogging too. So here is the ever popular 'Bharwan Karela recipe. So, Karela or Bitter Gourd is something people either hate or love. I fall into the latter category. A doesn't mind it and likes it when cooked well. In fact, when I was unsure what I wanted to do with the Karela and asked on Twitter, a friend
@Calvinator_18
gave me his rather
ingenious recipe.
He says,
"
Take 2 karelas. Put oil in pan, add chopped onions, salt, chilli powder, garlic, diced potatoes etc. Throw away the karelas. Serve warm

."
This is reason no. n+1 why I love Twitter.
My love for Karela goes back to when I was a kid. My grandmother made this most awesome, lip-smacking, tangy Karela sabzi. Ya, I know tangy isn't one of those adjectives used with Karela, but she did this South Indian curry, which had tons of tamarind, jaggery, slow cooked to perfection. Even as a 10 year old, this was one of my favourite curries. Give me some rice, ghee and this curry, and I'm set for life. However, I'd never tried a North Indian Karela recipe. And A's colleagues spoke to him about a Bharwan Karela and we decided to try it out. We made a filling recommended by his colleague, R, added some of our own twists and I loved the end result.
Here is the recipe. The stuffing used here is my maternal grandmother's #worldfamous Besan-onion stuffing for her amazing stuffed capsicum sabzi. My cousin and I are known to eat the stuffing separately apart from the stuffed capsicums. That I love Besan is an understatement. This, I found is a unique filling because R suggested we use the Karela seeds. Even with all my Karela love, the seeds are a different story. But surprisingly enough, they tasted fantastic and weren't all that bitter. And hey, it provided for the right texture between the soft, but caramelised Besan filling with the crunch of the seeds. With that statement, I've done my quota of food writing for the year. Phew!
Ingredients
4 Bitter Gourds
1/2 cup Besan (Chickpea/Gram flour)
1 cup onions, finely chopped
1 ping-pong ball size chunk of tamarind
1 tbsp cumin seeds
1 tsp turmeric powder
Salt to taste
3 tbsp oil
cayenne/chili powder as per taste
2 tsp garam masala
1. Bring some water to a boil in a saucepan. The saucepan should be wide enough to contain all the bitter gourds in their entirety.
2. Peel the bitter gourd partially, meaning do not remove the entire skin. Add 2 tsp salt and then dunk the bitter gourds into the saucepan. Let it cook for 7-8 mins. until tender but not overcooked.
3. Remove the bitter gourds and pat them dry with a towel. Then take a bitter gourd and snap the ends. Then cut it into 3 equal pieces. Scoop out the flesh and keep it separate. Repeat with the remaining bitter gourds.
4. In another pan, add 2 tsp oil under low/medium heat and then the gram flour. Keepstirring until the flour turns slightly brown. remove it and keep it separately.
5. In the same pan, add 2 tsp oil and the cumin seeds. Once they splutter, add the bitter gourd flesh with the seeds and fry them. Add the turmeric, chili powder and garam masala. Cook for 3-4 mins.
6. Add the onions and cook it for another 4-5 mins. Once done, add this to the gram flour. This completes the filling.
7. Stuff the scooped bitter gourds with this filling. Rub the exterior with as little salt as possible.
8. In a bowl, add about 1/2 c water and the tamarind ball. Heat in a microwave for about 1-1.5 mins. take a fork and smash the ball to dissolve the tamarind in the hot water as much as possible. strain and set the extract aside.
9. Add the remaining oil under high heat. Add the bitter gourd pieces and fry them. When the face exposed to the heat turns golden brown, rotate them and continue till all the pieces are golden brown.
10. When you're working on the final side of the pieces, add the tamarind extract. Toss the bitter gourd pieces and then close the pan. Let it cook for 2 mins.
11. Garnish with some coriander (optional) and serve it hot with rotis.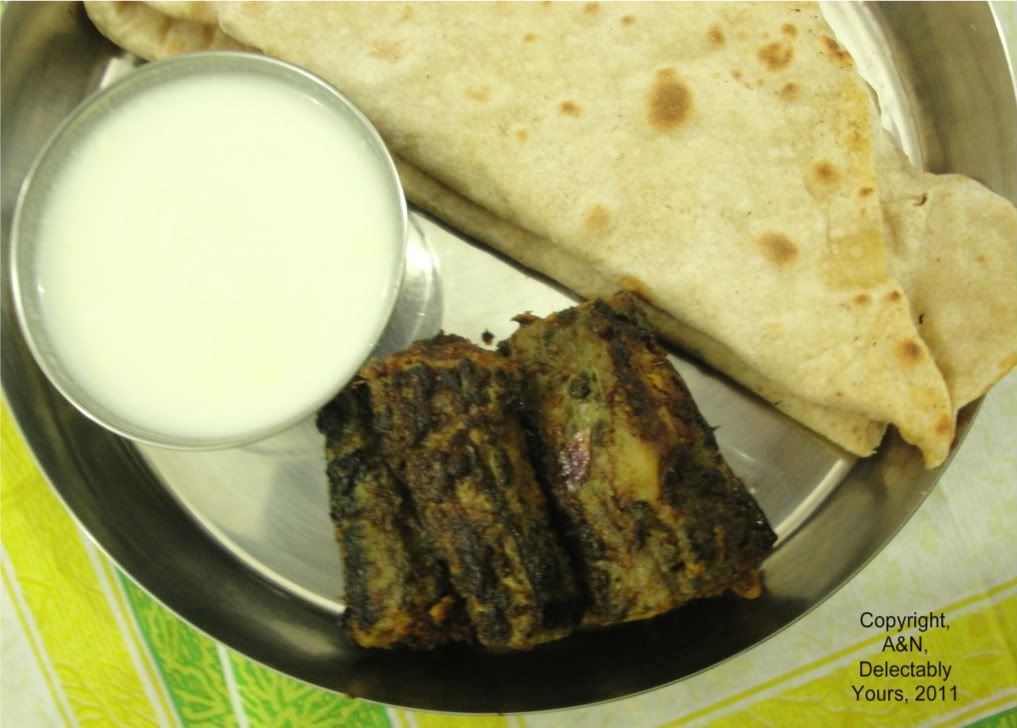 Be a little more patient than usual with the recipe and you can make it with less oil. Of course, if you are running short of time or want it really deep-fried crisp, go ahead and add a lot more oil. I like the roasted variety. Next time I may even bake this and broil it to see how it works out.
All this said and done, sudden mojo has been rediscovered for cooking. And we're back together making stuff that goes beyond Roti-Sabzi or Rasam Saadam. I promise that you will find a post every week. I haven't figured out a particular day to post yet, but then, I'm never going to do that, am I?
And hey, welcome us back! :D
P.S.- I know it doesn't look particularly appetising, but if you like Karela, this is a must-try. Trust me.