You know how our social life was always in shambles in the US, right? Because A wouldn't talk, meet or greet anyone remotely human. He spoke to me but I don't count. I'm superhuman. So. However, after coming back to India, all we do during weekends is either go to my mum's house which is a good 30kms away and pig out and I sleep while A watches cricket or holds hilarious one-sided conversations with my dad. Or, we are figuring out the house cleaning bit. We've decided not to have a maid and clean the house ourselves. Only, the first part of the previous sentence is about A and the second part of the sentence is about me.
Rarely, in between visits to my mum's house or my grandmother's house or trips to Chennai, we visit friends. Okay, we've visited this person precisely twice. She is A's colleague and a wonderful person. Very unlike A, highly social with something to say about everything always. A's office is full of Bengalis and I've heard and I can confirm personally now that Bengalis love their food. Or any food. A is also known to be very popular among the women in his office thanks to his Monday morning baked goods parcel to office. So, we were invited to this friend's house for chai and we took these beautiful butterscotch blondies for them. I remember seeing them on
Nags' blog
and the pictures stuck in my head.
However, this recipe was adapted from Dorie Greenspan's method for making classic brownies. The chocolate chips were replaced with butterscotch chips and some other minor modifications.
6 tbsp unsalted butter
6 oz butterscotch chips + 1/4c extra
3/4 c sugar
3 eggs
1 tsp vanilla extract
a pinch of salt
1/3 c + 3 tbsp AP flour
1. Preheat the oven to 160C
2. In a bowl, melt the butter and 6 oz butterscotch chips. Once melted, add the sugar and stir for 1 min. Then add the vanilla extract. Let it cool.
3. In a separate bowl, whisk the eggs. Do NOT over-beat them as brownies should be dense and not 'airy'.
4. Once the contents of the bowl with the chocolate mixture become lukewarm, add the whisked eggs and mix well.
5. Sift the flour. Add the remaining 1/4c butterscotch chips.
6. Fold this into the wet ingredients and stir until combined.
7. Pour the batter into a greased 8" square pan (about 2" deep). Place it on the middle rack and bake it for about 25 mins. or until a skewer comes out clean. You could choose to line the pan with greased aluminum foil and then pour the batter into it.
I found these a tad sweet and couldn't eat more than one. A, the one with the sweet tooth too felt it was very sweet. The recipients, of course, very politely declared they loved it. I'd have cut down the sugar a little bit. Given a chance, I wouldn't use butterscotch chips. As much as I love butterscotch ice cream, I think I prefer chocolate or fruit desserts any day compared to something like butterscotch. A loves it though and plans to gorge on them irrespective of what I think. But then, we have a ton of butterscotch chips in the fridge courtesy my sisters who love A and his baking and shower him with chocolate or butterscotch chips. A's list to his sister who is visiting end of this year begins and ends with chocolate. The snob that he is, he spends hours reading ingredients behind a chocolate slab here and declares them unworthy to be baked by him.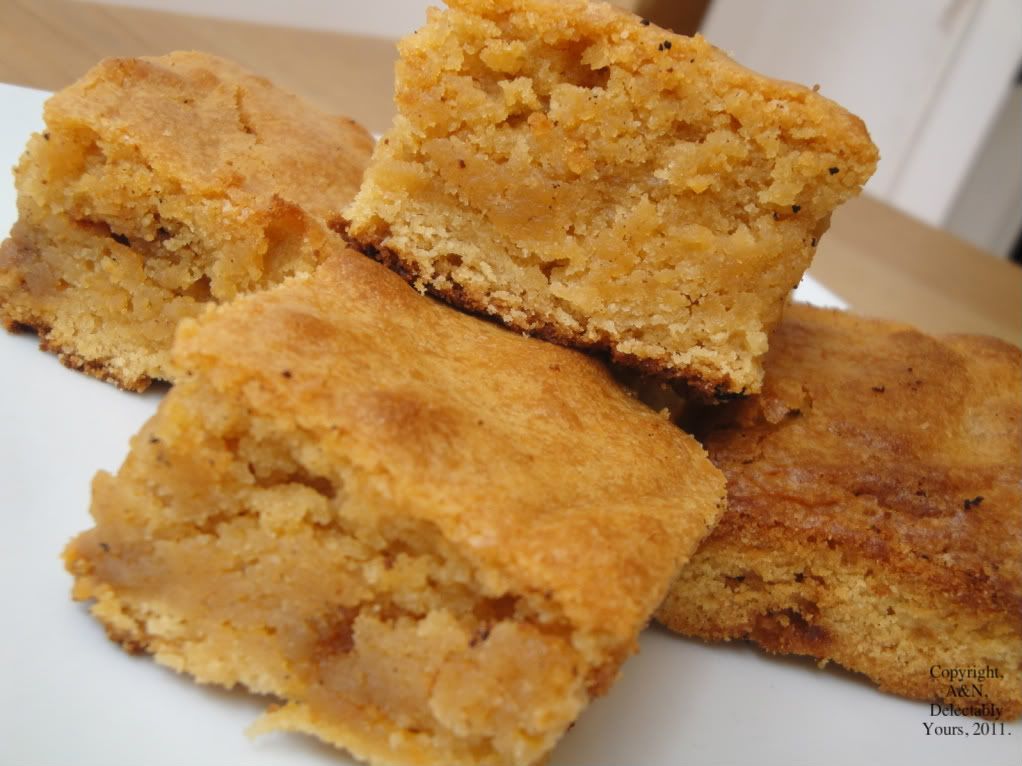 So, tell me dear Indian bloggers, where do you source your chocolate from?