W
hen we bake bread and start posting it, it means we are back. Remember, we are on the
challenge
? Anyway, this is our third bread in the book.
Here
is the recipe. And this turned out to be bagels. I love bagels. There is no disguising it. Give me a warm bagel slathered with cream cheese, and you've got me there. I still remember the first time I ate a bagel. I hated it. I came to Mountain View, CA on work and my friends and I planned a road trip to Monterey Bay, CA. We wanted to leave early, so we picked up breakfast at a bagel shop near our apartments. The guy packed us 2 bagels each - new to the US, none of us realized the enormity of the portions in this country! We struggled to finish a bagel with all that cream cheese. And there were so many more left! I hated the cheesiness of it all. No, I didn't appreciate or like cheese at all then.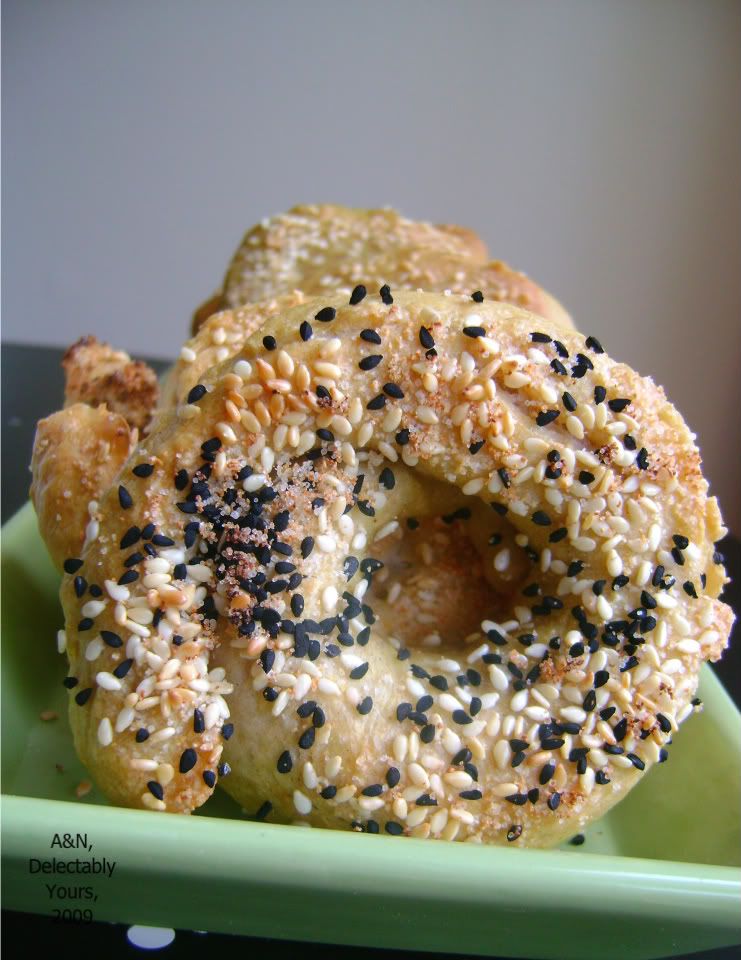 2 years later, I got married and came here to Atlanta and I still refused to eat bagels. Not like A appreciates bagels that much, anyway. And A does not like eating out. A pain, yes. So, since I didn't even know how to cook dal, baking a bagel was out of question. A is the kind who loves to cook and cooks rather well at that. So, anything you want to eat, and you mention it to him, he will cook that for you. So, after a tiring road trip to Florida, in a bid to eat out, I mentioned I wanted Thai food. It was 10 PM. He just looked at me and said, 'sure.' I slumped back and slept while he drove home. I reached and went on to take a shower and dress up. I came down 10 mins later to see the table all set and A cooking Thai food :) I know it seems nice and all that, but this is what happens every time we want to eat out. Nowadays, I just dress up and say, let's go, and decide on the cuisine on the way! Look at him eat a home made bagel while I was slogging at the pics!

Anyway, I digressed as usual. We went on this Thanksgiving trip to NC last year. We decided to make it a cozy romantic road trip travelling through the Blue Ridge Parkway only through the bylanes. And I'd convinced him that we should eat out. No cooking at home when we come back, no packing food ( though we've never done that!) Much to my agony, not ONE single cafe or restaurant was open through the way thanks to the holidays. And the ones that opened didn't have one Vegetarian option. I was boiling mad. A was grinning away to glory. I cannot live without breakfast. Or lunch or dinner, for that matter. Finally, we reached this town where there was one coffee shop open. I had 2 smoothies and 3 bagels after one full day of not eating anything. And trust me, I haven't loved anything more than bagels. I came back home and ever since, every weekend, when we hit the Farmer's Market, I eat a warm bagel making up for all the years I've lost in not eating any bagels!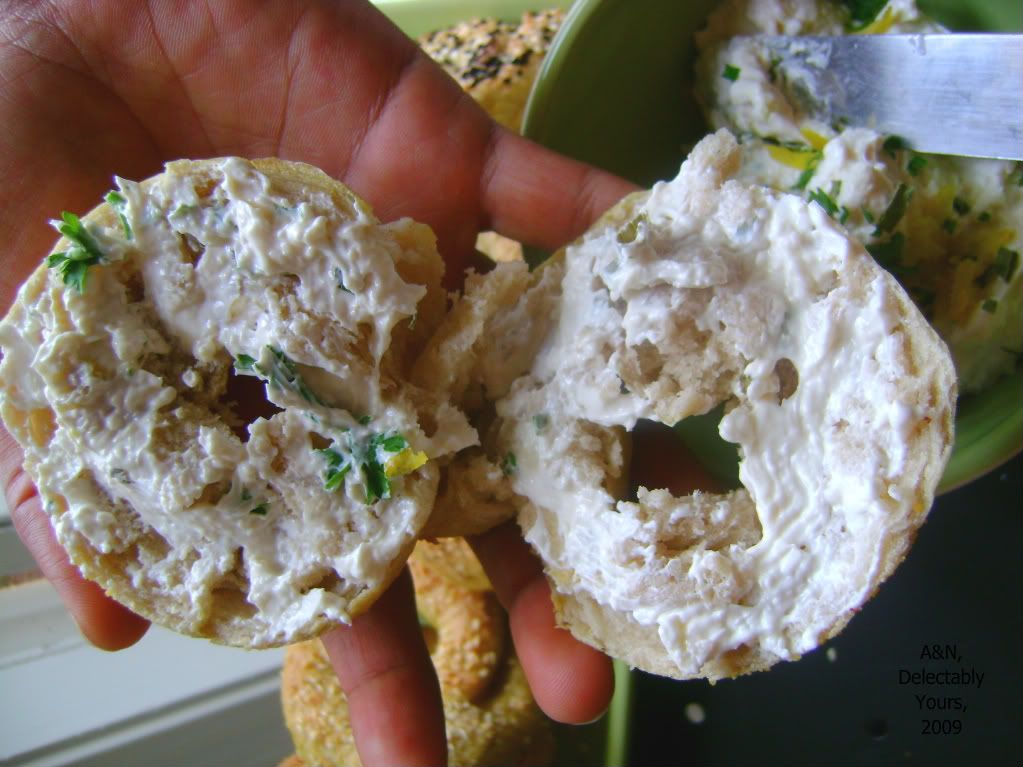 So, when we saw Peter Reinhart's bagels, we were obviously excited. We made them last weekend for breakfast with some cream cheese spread!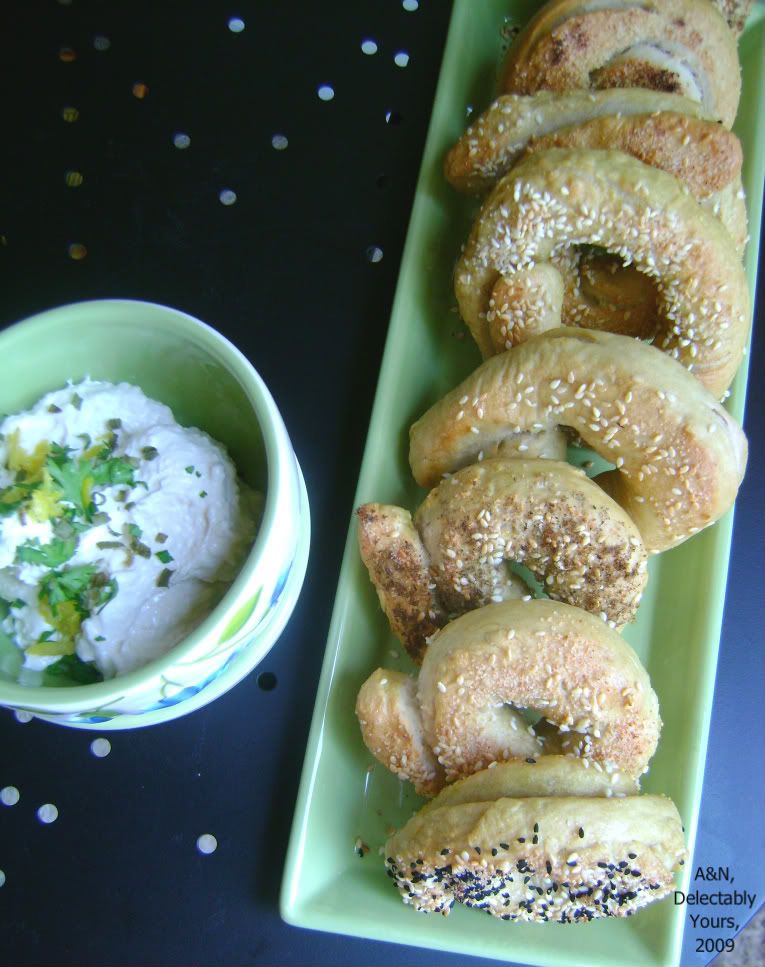 Needless to say, I loved it. However, I felt the bagels I've eaten at the Farmer's Market are better than these. Also, I loved Peter Reinhart's
Anadama Bread
and
Christopsomos
way more than these bagels. But a bagel is a bagel and was given appropriate respect :D We made only 6 bagels. It was impossible to scale the recipe further down. Sometimes, I wish I had kids just so I could bake and bake and bake and let them eat and I could just take a bite. Sigh. I only hope my mom or in laws or a variety of aunts don't read this blog. Or, they will use this as my alter ego and pester me to have a baby!